There's a lot of great football on tap today. I haven't followed college football this year as closely as I normally do, so I'm not going to make a pick on every game. But here are my picks for some of the games I'll be watching today — rationales below.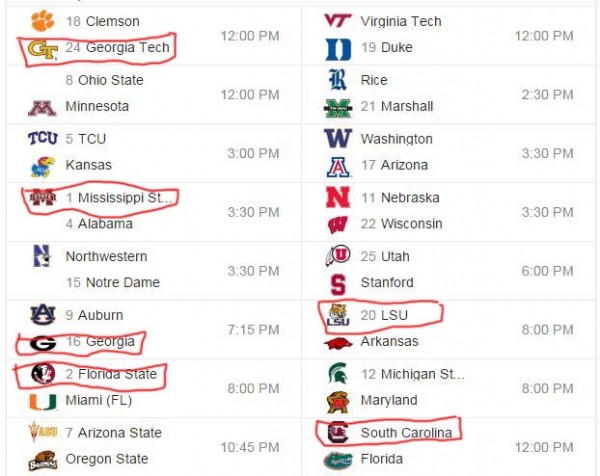 I think Georgia Tech beats Clemson. Why? I dunno — just a feeling. Mississippi State will roll the Tide, making Saban even more dyspeptic, if that's possible. LSU will root out the Hawgs.
The Dawgs, still smarting from that beat-down Florida delivered, will take out their ire on the luckless Tigers / War Eagles.
I WISH Miami would beat FSU. I hate both of them but hate FSU more. But the 'Noles have lured me into false hopes of their implosion too many times this year. I think they beat "The U" like a rented mule.
As for my own Gators, damn, I hope they win. My grandma went to the University of South Carolina, and she will be insufferable over the holidays if the 'Cocks prevail. But I think the Gators lose, damn it.
What say y'all?