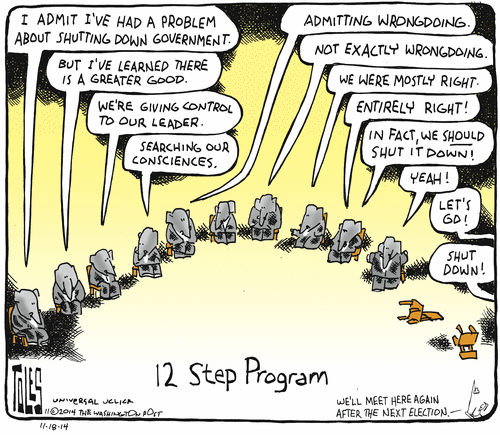 .
… Because, as they see it, they were rewarded for past shutdowns. This appeared before the President's address, but the post-speech GOP screeching seems to support its thesis. Dave Weigel, at Bloomberg Politics:
One year and one month ago, the Republican Party was doomed. Its conservative wing in the House, egged on by outside groups like Heritage Action, had refused to include the Affordable Care Act in the must-pass funding bill. The result, a two-week government shutdown, was a "total disaster" for the GOP, a mistake that threatened the majority. Public Policy Polling, a North Carolina firm favored by Democrats, found "as many as 37 Republicans" in danger…

The revisionist history of the shutdown began as soon as the shutdown ended. When the Democratic Senate bottled the Republican House's ACA-defunding bills, House Republicans started moving "piecemeal bills" that funded portions of the government. By January 2014, Texas Senator Ted Cruz could say that he "repeatedly voted to fund the federal government." And through the rest of 2014, Cruz claimed that the shutdown fight, rather than distracting from the first wretched fortnight of HealthCare.gov, turned Obamacare into a winning Republican issue…

"This is the second shut down where the GOP got blamed and saw no catastrophe at the ballot box," wrote RedState.com's Erick Erickson on Tuesday. "Every horror story every talking head within the GOP Establishment trotted out to scare congressmen and senators into caving turned out to be crap."…

In those circles, it's clear that the president can be stared down on immigration. And it's clear that a fight, even if it led to shutdown, would be either rewarded or forgotten by voters when they returned to the polling booths in November 2016. The reality of the Affordable Care Act had, after all, ended up winning elections for them in 2014. Why wouldn't the reality of Obama's new blunders elect the Republicans of 2016?

It's all deeply frustrating to Democrats. Virginia Representative Gerry Connolly, whose district's contractors and federal employees recoiled at the shutdown, had subsequently watched his state reelect its Republican congressmen and nearly knock off its popular Democratic senator. There clearly was no shutdown hangover for Republicans.

"From their point of view, frankly, while it had a temporary impact on their polling numbers, they fully recovered from that and paid no price at all on Nov. 4," said Connolly as he headed into a vote. "Politicians are all Pavlovian at a very elemental level. What's rewarded, what's punished. They look at that, and they think it seems to have been rewarded. It certainly wasn't punished."…
Never underestimate the destructive abilities of a malign idiot — or a party full of them.