While we freeze down here in the lower 48, it helps to remember we live on a big round planet with lots of places on it.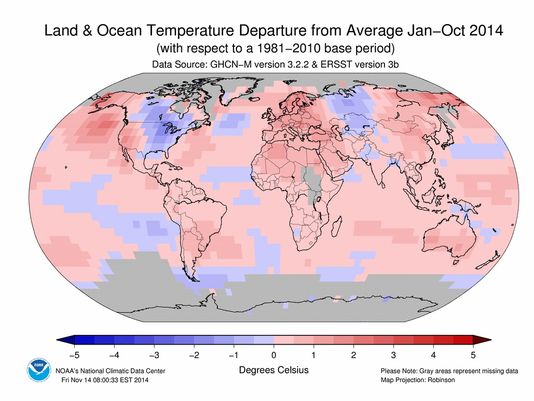 Those red places had a warm 2014. Notice that almost everyone in the world lives there. Averaged together all of us people had a few of the hottest months on record and we will probably also have the hottest single year ever. Not everyone, though. Some populations actually have colder weather thanks to the weird effects that warming has on patterns in the atmosphere. One group, a small number, live in central Siberia. The other population is more notable in that the cold spot on the left covers a bunch of the most important group of people in the world for fixing the climate problem. Dropping that one spot of cold over the central and northeastern United States strikes me as a remarkably perverse joke on the part of whoever the spaghetti monster delegated to weather control.
I explained this odd feature of global circulation last year with a fun series about the beautiful moderate winter they had in northern Alaska. Well, it turns out the far north would prefer if they could have their cold winters back.
[Brage Hansen of the Norwegian University of Science and Technology in Trondheim] and his co-authors focused on the rainy warm spell that brought record-high temperatures and prolonged rain to Svalbard over 2 weeks in January and February 2012. Temperatures during that period were routinely 20°C higher than normal, and on one day, the study notes, a Svalbard weather station recorded a daily average temperature of 4°C, which was "higher than at any weather station in mainland Norway on that day." Another Svalbard station recorded 272 mm of rain during the 2 weeks; that station's average for the whole year is 385 mm.

The water created thick pools of slush and melted snow, kept cold by the frozen ground, known as permafrost. Then temperatures dropped and everything froze, leaving Svalbard's fjords and towns coated in thick ice, terrorizing its roughly 2000 inhabitants and decimating the most abundant animals on the archipelago—wild reindeer. Scientists measured ground ice between 10 and 20 cm thick in 200 test sites, and more than half of the ground area they monitored was still covered in the ice 5 months later.

The ice forced road closures in Longyearbyen, Svalbard's largest settlement, and caused a so-called slush avalanche—consisting of snow, ice, and slush—that destroyed a pedestrian bridge. The town's central antenna was disabled, halting radio transmissions, and an icy runway meant that flights to and from the archipelago were canceled for days. "Furthermore, snow-mobile driving, dog-sledding and hiking were nearly impossible during the weather event" and for months after, notes the paper, published today in Environmental Research Letters.

The impact on Svalbard's reindeer was severe, as ice prevented the animals from digging through the snow to eat plants. In the summer of 2012, scientists found high numbers of carcasses in all seven of Svalbard's monitored populations, and a record number in one of them.

[…] A series of climate models the scientists used to predict local warming in the high Arctic estimated that warming temperatures will continue for years. Hansen says if those predictions bear out, some winters by 2050 could have periods with a mean temperature above freezing. More ice would then follow, which could mean "a completely different" climate on Svalbard, Hansen says, with the 2012 event an icy preview.
First reaction: one whole winter of Todd sitting around with the snowmobile under a tarp and Sarah will cut documentaries for Greenpeace. But on reflection, oy. A thick ice crust that locks out herbivores for a whole season will make Alaska a much quieter place. And if the native populations cannot travel, use the roads or hack through the thick ice to pretty much do anything, and the radio doesn't work, and the large animals they hunt for food are all dead, that could make the whole area a bit tougher for supporting human life.