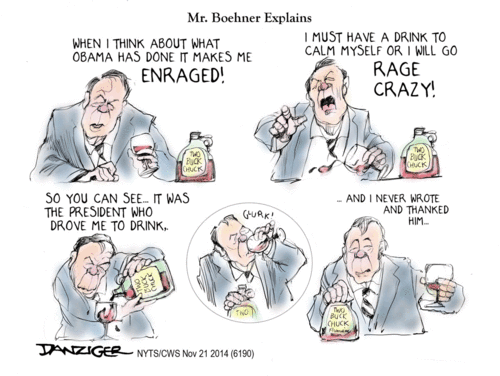 .
Some jokes age like wine. Or whine.
Meanwhile, in the Washington Post:
FERGUSON, Mo. — The revolution, or whatever happens here, most certainly will be televised, but until then, every part of the lead-up will be, too. In recent days, shop owners boarding up stores have found themselves giving impromptu news conferences. Media galleries form to listen in on church sermons. Television trucks hum in the parking lot of a tire shop, a front-row seat across from police headquarters…

Many residents, business owners and elected officials have welcomed the increased scrutiny, saying that a media presence helps expose systemic, race-related problems in the police force and the justice system. But others, particularly those who haven't taken part in the protests, say news organizations have produced a warped portrait of Ferguson, a small city with middle-class homes and a historic shopping district.

They're worried, too, that reporters are here to document the next round of violence, if there is one, not the underlying problems. "Riot porn" is what Democratic committee member Patricia Bynes called it, referring to images of young black men with their shirts off, using them to guard their faces from tear gas.

Bynes rejected any characterization of Ferguson as a failed community. "You aren't seeing this city if you think this is a ghetto," Bynes said. "And you are missing the story, which is that this could happen anywhere, including the suburbs."

The grand jury, after a weekend pause, could meet again as early as Monday to discuss the case of Darren Wilson, the officer, who has not spoken publicly since the shooting. CNN anchors Don Lemon and Anderson Cooper both revealed Sunday on Twitter that they had met secretly with Wilson to solicit an exclusive interview. Several other networks and channels are in the running, said CNN's Brian Stelter, who first reported the off-the-record negotiations…

No matter what happens after the grand jury decision, many feel the wall-to-wall coverage has overplayed the extent of misbehavior in the aftermath of the shooting. The St. Louis Post-Dispatch noted rather pointedly this week that the property damage stands at $5 million — one-24th as much as that from a hailstorm two years ago. The newspaper also referred to The Washington Post's description of Ferguson as a "burned-out symbol of racial and class divisions in America." But only one building has burned.

"A lot of the press corps is looking for that kind of [violent] action, and that is contributing to the nonstop narrative of expecting violence," said Mervyn Marcano, a communications strategist who works for several St. Louis grass-roots organizations. "I think that actually undermines the community-building work people are trying to do here."…
***********
What else is on the agenda, for the start of a mostly-foreshortened work week?