This iconic photo of Ferguson last night by Reuters is what is sticking with me this morning.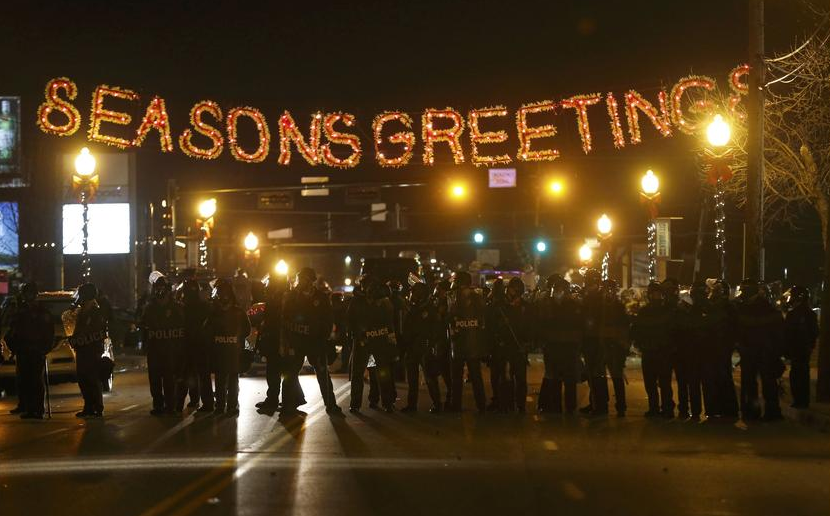 'Murica.
We're learning more about Wilson's grand jury testimony as well.
St. Louis Public Radio published the full transcript of Wilson's testimony Monday. The St. Louis County Prosecutor's office released evidence from the grand jury proceedings after it was announced that no charges would be filed against Wilson.

From the outset, Wilson's testimony painted Brown as an angry young man. The officer testified that when he first approached Brown and his friend to tell them to walk on the sidewalk instead of in the middle of the road, Brown responded "fuck what you have to say."
And for that, Michael Brown was summarily executed, and without consequence.
This is the system that this morning I am being told I have to "trust" and "put my faith in".  The one that was never meant to protect anyone who looks like me.  The system that allowed Darren Wilson to walk, and arranged a public shaming of the victim and his family in a strange tirade where the county prosecutor defended the officer accused of killing an unarmed black man and ripped into the eyewitnesses as being anything but credible.  The system that decided that 8 PM local time was the best time to announce the decision after supposedly sitting on that decision for a weekend. The system that took over 100 days to determine that there was no evidence worthy of even sending this case to trial.  The system in that photo above, I am being told, I have to "believe in".
You will excuse me if I withhold that benefit of the doubt.  In his testimony, Wilson, a 6'4″ man, referred to Mike Brown as "it", and "a demon".  He wasn't human.  He was a thing, and there's no penalty for shooting a thing and so this thing was shot time and time again because it had to be put down, a monster, a beast, a nightmare made flesh.
And whatever actually took place on that street that day, it does not warrant a trial to investigate it. That is the lesson here. Did Brown deserve the ultimate sanction, the taking of his life?  We'll never know.  There's no trial to compare the evidence, to advocate one way or another in a court of law, nothing to weigh, no due process.  He wasn't worth that. That's what the system says.
A picture, they say, is worth 1000 words.  The life of a black person is worth less than nothing.  That's what I'm being told I need to "believe in" this morning.
I believe I've had enough of this bullshit.