Here's a fact The New York Times seeks to explore in the wake of the decision to let the killer of an unarmed youth go free:
A nation with an African-American president and a significant, if struggling, black middle class remains as deeply divided about the justice system as it was decades ago. A Huffington Post-YouGov poll of 1,000 adults released this week found that 62 percent of African-Americans believed Officer Wilson was at fault in the shooting of Mr. Brown, while only 22 percent of whites took that position.
The Times notes that this divide is nothing new:
In 1992, a Washington Post-ABC News pollfound that 92 percent of blacks — and 64 percent of whites  — disagreed with the acquittal of the Los Angeles police officers involved in the videotaped beating of a black man, Rodney King.

"What's striking is just how constant these attitudes have been," said Carroll Doherty, the director of political research for the nonpartisan Pew Research Center in Washington.
This particular article doesn't go into much depth on who might be right — the white majority that sees justice being done from King to Brown, or the African American majority that sees culpable killers go free, but it does make clear that the experience of everyday life is … well, it's the great grey lady (formerly) of 43rd Street, so this is how the sociology passage begins:
That whites and blacks disagree so deeply on the justice system, even as some other racial gulfs show signs of closing, is perhaps not as odd as it seems.
Not odd at all, as it happens, on the evidence of another long analysis piece in today's paper the Ferguson decision:
But the gentle questioning of Officer Wilson revealed in the transcripts, and the sharp challenges prosecutors made to witnesses whose accounts seemed to contradict his narrative, have led some to question whether the process was as objective as Mr. McCulloch claims.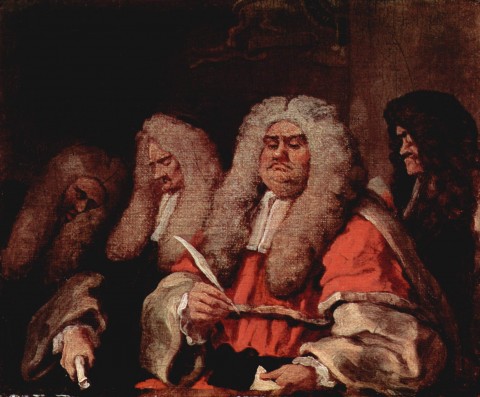 And what might have prompted such unpleasant suspicions about an upstanding public servant?  Perhaps this:
Officer Wilson, in his testimony, described the encounter in terms that dovetailed with a state law authorizing an officer's use of deadly force …

In some cases the questions seemed designed to help Officer Wilson meet the conditions for self-defense, with a prosecutor telling him at one point: "You felt like your life was in jeopardy" followed by the question, "And use of deadly force was justified at that point in your opinion?"
Might as well have just used cue cards.
Defense witnesses — which is to say that those witnesses with testimony to exculpate the voiceless dead against the charge of he had it coming — did not receive such helpful guidance:
Though the prosecutors did not press Officer Wilson and other law enforcement officials about some contradictions in their testimony, they did challenge other witnesses about why their accounts had varied.

…

Prosecutors did not seem to shy from pointing out the discrepancies between multiple interviews of a single witness, or at some points exploring the criminal history of some witnesses, including Mr. Johnson, Mr. Brown's friend.
And you know something:  priming works.  This was a prosecutor/cop defense attorney who knew exactly what he was doing:
Over the months, the jurors seemed to focus intently on the final movement that Mr. Brown may have made toward Officer Wilson, after a brief chase. The prosecutor asked witness after witness if it seemed as if Mr. Brown were reaching for a weapon, though few said they saw anything like that. Mr. Brown was found to be unarmed.
Nothing to see here. Move along.
Or rather, this is an answer to the question implied in its companion article.  If blacks and whites view the criminal justice system differently, then, obviously, as the Ferguson trial of that dastardly murderee, Michael Brown, shows so clearly, that's because it is different for white and black.  Or more precisely to the point made brutally clear in the sorry history of the Ferguson grand jury, both black victims and those African Americans accused of crimes cannot expect the abstract ideal of the rule of law to reach them.
The single essential requirement for justice within a justice system is that the institutions and individuals involved receive genuinely equal treatment.   As we can see from the top level decisions made in this case down to the fine grain of particular questions and answers, Darren Wilson benefited at every stage from the unequal approach prosecutor McCullough chose to employ.  (Take a look at this New Yorker piece by Jeffrey Toobin for a fine account of just how thoroughly the fix was in from the moment McCullough chose to go the grand jury route.)   Abraham Lincoln in his second inaugural address pondered out loud the mystery that two sides, each believing in the same God and in their claim on the blessings of heaven were still locked in an utterly destructive struggle.  How could that be so?  Perhaps, he said, in what seems to me to be the most devastatingly honest utterance by any American president ever:
The Almighty has His own purposes. "Woe unto the world because of offenses; for it must needs be that offenses come, but woe to that man by whom the offense cometh." If we shall suppose that American slavery is one of those offenses which, in the providence of God, must needs come, but which, having continued through His appointed time, He now wills to remove, and that He gives to both North and South this terrible war as the woe due to those by whom the offense came, shall we discern therein any departure from those divine attributes which the believers in a living God always ascribe to Him? Fondly do we hope, fervently do we pray, that this mighty scourge of war may speedily pass away. Yet, if God wills that it continue until all the wealth piled by the bondsman's two hundred and fifty years of unrequited toil shall be sunk, and until every drop of blood drawn with the lash shall be paid by another drawn with the sword, as was said three thousand years ago, so still it must be said "the judgments of the Lord are true and righteous altogether."
The offenses still come.  It's a good thing that in twenty first century America a child can no longer be sold away from its parents.  It's a step in the right direction that the act of looking at a white woman whilst being a black youth is not still a capital offense.
But a century and a half after a president counseled his war-riven nation, the offenses still come.
The death of a teenager who, we are told, it was OK to kill, simply adds this latest harvest of blood to the debt that Abraham Lincoln sought to settle so long ago.
Image: William Hogarth, The Court, c. 1758.