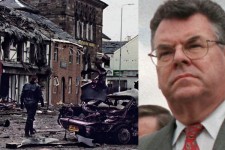 Oh, shut the fuck up Peter King, you noxious blowhard:
Rep. Peter King, R-New York, said Tuesday that President Barack Obama should invite Ferguson police Officer Darren Wilson to meet with him at the White House.

"I think it would be very helpful if President Obama went and met with the police officer, or at least invited him to the White House," King said on Fox Business Network.

"And say, 'you've gone through four months of smear and slander and the least we can do is tell you that it is unfortunate that it happened and thank you for doing your job.'"

Reflecting on Obama's speech last night, King said he thought the President's remarks were "lackluster."

"I wish he said one good word about the police — one good word about Officer Wilson who had gone through all this," King said, noting that the controversy affected both the defense and the prosecution.
I'll make a deal. You meet with the families of these people first:
f course it was Irish, not Islamic terrorism that King championed. So that's different. Right? For decades, King was one of the keenest, most reliable American voices supporting the Irish Republican Army during its long and murderous campaign.

According to King, the terrorist movement was "the legitimate voice of occupied Ireland."

In Northern Ireland, the conflict was drily referred to as "The Troubles." But that understatement hides the brutal nature of an ugly, squalid conflict during which more than 3,600 people were killed. Republican terrorists were responsible for more than 2,000 of these deaths. The scale of the carnage was such that, on a per-capita basis, a comparable conflict in the United States would kill 700,000 Americans.

And King was at the heart of it: In the 1980s, he was a prominent fundraiser for Noraid, the Irish-American organization that raised money for the IRA and was suspected of running guns to Ulster, too. Indeed, King's rise to prominence within the Irish-American movement was predicated upon his support for the IRA at a time when New Yorkers were softer on terrorism than they are now. Noraid helped win King his seat in Congress, making him, in some respects, the terrorists' Man in Washington.

On his travels to Northern Ireland, King would stay with members of the IRA and spend his evenings in IRA drinking clubs, soaking up the atmosphere and, I dare say, enjoying the craic.

In 1982 he told a pro-IRA rally in Nassau County, New York, that "We must pledge ourselves to support those brave men and women who this very moment are carrying forth the struggle against British imperialism in the streets of Belfast and Derry." That same year, an IRA bomb killed eight people in London's Hyde Park. Two years later, the IRA almost succeeded in murdering the British prime minister. Only good fortune saved Margaret Thatcher's life. In 1987, an IRA bomb murdered 11 civilians in Enniskillen during the annual Remembrance Day service. These are merely some of the more infamous IRA atrocities. There isn't space here to list them all.

King was such a well-known figure in Northern Ireland that one judge presiding over a murder case in which the accused were members of the IRA, threw King out of his Belfast courtroom because, as the judge put it, "he was an obvious collaborator with the IRA."
Then maybe President Obama might sit down with the man who killed an unarmed teenager. Why? I don't know. Wilson seems to have no regrets. And if he should go to the White House, I hope to hell the Secret Service frisks Wilson. Guys got an itchy trigger finger and is easily scared.