Steve woke me up at 5:30 again this morning, and it is snowing and blustery outside, so I am about to take a long afternoon nap. One of my fraternity boys (Christion- Rosie's favorite) has been staying here since Friday (he had no ride home until tonight), and he has been crashing on the couch for the last couple of days, and man does he make me jealous. Not only is he able to sleep through Steve, but he can sleep through anything. The boy can nap, too. He can go from being wide awake to sleeping soundly in about the time it takes him to put his head on a pillow. I had forgotten what that was like- just having two speeds, on and off. I used to be like that when I was in the younger and in the army- I could sleep anywhere anytime. Easy as flipping a switch, and I had no idea what a luxury it was. Jealous, I say. That whole spiel about youth being wasted on the young, etc.
Almost had another stereotypical Cole disaster today. My general store makes a special sandwich and lunch that differs every day, and today was chili. I really like their chili, so I went to the store and got a styrofoam container for lunch. Walking home, I slipped a little bit on the slush, and because I am so conscious about injuring my shoulders again in another fall, I always tuck my arms in and clench my fists so if I do fall, I'll just fall and let my padded body absorb the blow.
At any rate, I regained my footing and didn't fall (YAY ME!), but I did manage to clench my fists so hard that I punctured the styrofoam container in my right hand and shot molten hot chili all over myself. Damnit.
Here's Lily, snoring on the home office couch, because she is a dog and that is what they do: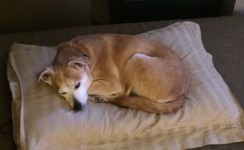 Some times a comfy couch isn't enough, and you just gotta have the pillow, too. I'm about to wake her up, but only because I am going to say "Lily, naptime," and she will run into the bedroom and get under the covers. Yes. We're co-dependent, and I am not ashamed to admit that I can not sleep unless I feel my litte lump curled up next to me.