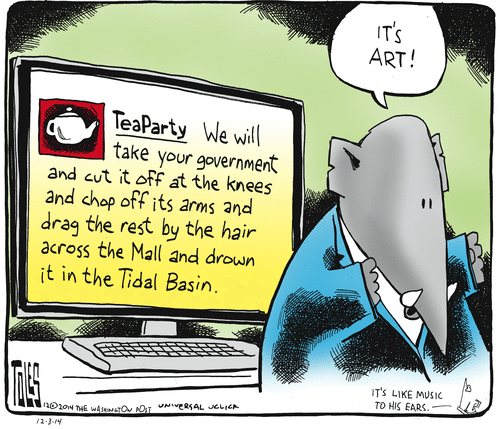 .
Speaking of the "art" of making threats, Dana Milbank looks at the latest Tea Party tantrums and says that "Obama has already won the immigration fight":
Among the many ways Republican members of Congress are contemplating to punish President Obama for his executive actions on immigration is a proposal of elegant simplicity: They would refuse to invite him to the Capitol to give his State of the Union address.

Yes, that should do the job. And if this doesn't force Obama to back down from his executive orders, Republican lawmakers can escalate by unfriending him on Facebook and unfollowing him on Twitter. If even this fails, they can take the extreme step of having their Christmas cards from the Obamas returned to sender. Surely, the president then would have no choice but to relent…

My Post colleague Robert Costa has heard Republican lawmakers floating no fewer than nine possible responses, from the frivolous (the State of the Union snub) to the outrageous (impeachment). But all signs indicate Republicans have abandoned attempts to defund Obama's executive actions under the threat of a shutdown — at least for now. Instead, they plan to keep the government running through Sept. 30, probably allowing immigration-related spending to lapse earlier next year. This would be paired with a symbolic vote blocking Obama's executive actions…
From the Balloon Juice Lexicon:
Kabuki – Japanese Kabuki is a form of classical theatre known for highly stylized drama and elaborately made-up actors performing pieces codified over hundreds of years. It's completely opaque to people who don't already understand it. In political terms, actions or statements said to rely upon posturing, exaggeration, and loud noises to disguise their empty theatricality. Modern conservative Republicans prefer the Theatre of Noh (h/t commentor Donald G)
**********
Apart from a little histrionics for the holidays (the Speaker can play Rudolph!), what's on the agenda for the day?