College football is winding down, and after this week's conference championships, the inaugural playoff picture will become less murky — or maybe it'll be thrown into turmoil. We know the Ducks are in after walloping Arizona yesterday; the only question is at what seed. Here are my picks for today's games; less-than-rational rationales below: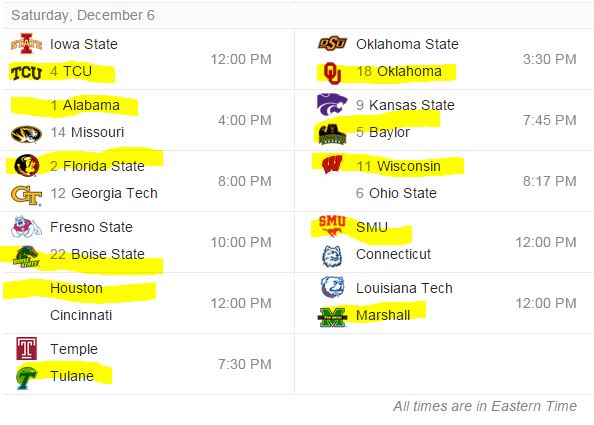 The Horned Frogs will win because they're the gott-damn HORNED FROGS! I think Alabama beats Mizzou. I like Mizzou better, but I don't think they'll win, and as an SEC gal, I'm sorta pulling for 'Bama because I think they'll be a stronger conference rep in the playoffs.
I really want Georgia Tech to beat the fucking 'Noles because I hate the fucking 'Noles. But the fucking 'Noles tend to play badly enough to toy with the emotions of their haters and then win in the end. That will happen one more time today, dashing my schadenfreude yet again.
I think Boise State, Houston and Tulane will prevail over their opponents. Just a feeling. I am pulling for Oklahoma over Oklahoma State purely for the sake of front-page colleague Soonergrunt.
Baylor beats K-State because they have a better coach. I'm hoping Wisconsin knocks off the Buckeyes because fuck The Ohio State University, and I think there's a good chance of that outcome because OSU lost its QB.
Southern Meth vs UConn — good lord, they both suck. I think Southern Meth wins just because the poor bastards have lost every game this year, so they're due.
Marshall vs Louisiana Tech — I picked Marshall just because. What say you, football fans?
PS: Thoughts on the new Gators coach, Jim McElwain? I think he's a solid hire. At a minimum, I was hoping for someone who knows the SEC and has successful head coaching experience. McElwain fits the bill.