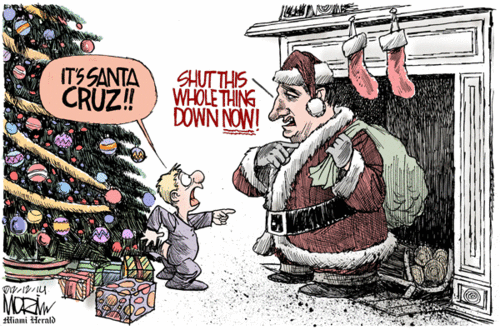 (Jim Morin via GoComics.com)
We finally have a Surgeon General again, despite the NRA's best efforts. Per the NYTimes:
… In a vote early in the evening, Vivek Murthy, a doctor specializing in internal medicine, was approved by 51 to 43.

The confirmation was one of the last acts of business for the Democratic-controlled Senate. Had it not occurred, the nomination would have died, leaving the president without a permanent top doctor, possibly even for the remainder of his two years in office."..
And the person being held most responsible, by his fellow Repubs, for this #ammosexualfail? None other than Tailgunner Ted…
Schumer: "Cruz, in one fell swoop has taken all the hard work of Mitch McConnell & John Boehner trying to show that they can govern away."

— Frank Thorp V (@frankthorpNBC) December 13, 2014
Warning, Politico — "Ted Cruz Does It Again":
… Cruz, along with Utah Sen. Mike Lee, took to the floor Friday night to demand Republicans stop President Barack Obama's executive action on immigration and scuttled a bipartisan agreement to push back votes until Monday, effectively forcing the Senate to return for a rare weekend session and cast a marathon series of procedural votes…

On Saturday, GOP senator after GOP senator teed off on Cruz, arguing that his strategy had blindsided the caucus, forced them to return to Washington and even strengthened Senate Majority Leader Harry Reid's ability to exploit the Senate rules and push through 24 of Obama's stalled nominees. Several senators had to abruptly change plans, including Ayotte, who had to race back to Washington and missed the ballet with her daughter, and Tennessee Sen. Bob Corker, who had to cancel his official trip to Iraq and Turkey this weekend.

On the floor, angry GOP senators pressed Cruz over whether he was fundraising off of his tactics, sources said, and Maine Sen. Susan Collins ripped him in a private conversation. Several Republicans were discussing whether to mount a protest vote against Cruz: Unite in opposition to his point-of-order challenging the constitutionality of the spending bill's funding of Obama's immigration move.

And 20 Republicans, including incoming Senate Majority Leader Mitch McConnell, ultimately opposed the Texas Republican. Cruz and Lee won the backing of 22 GOP senators total, including potential 2016 rivals Marco Rubio of Florida and Rand Paul of Kentucky…

"I don't see how conservative ends are achieved," said Arizona Sen. Jeff Flake, a fiscal hardliner. "I think it's counterproductive. Some of the nominations that we had issues with, like the surgeon general, were not going to move forward. Now they're going to move forward."…
I know our Blogmaster thinks it's all kabuki for the "base", but Daniel Larison is one of the few not-stupid, not-(totally)-insane conservative writers at the moment…
Daniel Larison gets to the problem with Cruz 2016: He's a jackass and no one likes him. http://t.co/AJD9u5TevE

— Jamelle Bouie (@jbouie) December 11, 2014
Larison writes:
… Cruz might give "establishment" candidates a bit more of a headache than most of them expect, but the trouble he is going to have in running for president is that he has a special knack of making enemies of all kinds of Republicans by dint of his obnoxious style and scorched earth tactics. It isn't just that he endorses long-shot, losing tactics, but he goes out of his way for whatever reason to antagonize and insult other Republicans and conservatives that happen to disagree with him about tactics or rhetoric. Whether he is mocking critics of his shutdown antics as the "surrender caucus" or needlessly imposing wildly inappropriate litmus tests on Near Eastern Christians, he makes a point of picking fights with other Republicans and conservatives for no reason. It would be one thing if he were perceived to be doing this for principled reasons, but he also gives everyone the impression that his grandstanding is mostly opportunistic.

Then there is the fact that he is an unscrupulous demagogue. He proudly makes obviously false claims, and when he is shown that they are false his first instinct is usually to impugn the motives of the people calling him out. Because he has tried to position himself between different factions of the party on foreign policy, he has also managed to annoy all sides of the intra-party debate. Instead of establishing himself as an acceptable compromise candidate occupying the space in between, say, Rubio and Paul, Cruz has given every faction a reason to distrust and dislike his foreign policy views. Beyond that, his dealings with many other people in his party have been poisoned by his off-putting and arrogant behavior. That extends from the vast majority of his Republican colleagues in the Senate to the WSJ editors, most of whom Cruz should be able to count as allies…
I'm sure Ted Cruz is going to run for president in 2016, and for as many presidential elections thereafter as he can find one rich-enough donor and some off-brand media to support him. And under the right circumstances, he could be the Elmer Gantry I suspect he sees in the mirror, "wrapped in the flag and carrying a cross". He's the worst of Newt Gingrich, Mike Huckabee, and Sarah Palin, in one ready-for-his-closeup package. But then again, none of those three ever made it to the Oval Office… and barring total social breakdown, I sincerely doubt Cruz will either. (Especially with Rick Sanctorum on his right flank and Scott Walker on his left; they're all playing for the same audience, but Santorum is better at stroking the Bases' tender inflamed egos and Walker has the wonk money.)
And if we have to put up with his irritating jackass ways, it'll be nice if he at least continues to annoy the other Repubs even more than he does us.