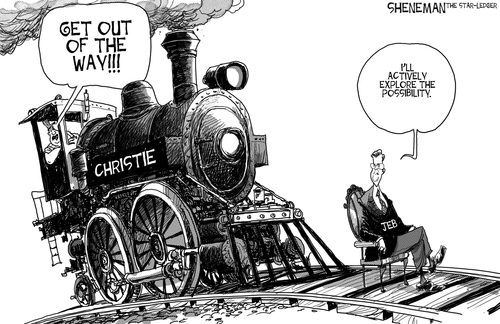 .
Because I am not a nice person, it amuses me that the NYTimes is primly reporting "G.O.P. Hopes for Unity May Be Upset by Ben Carson":
… With former Gov. Jeb Bush of Florida moving closer to declaring his candidacy, and the Republican establishment determined not to repeat the mistakes of the lengthy nominating fight of 2012, the rise of Mr. Carson suggests the best-laid plans of the party for 2016 may not go as smoothly as desired.

Even as Mr. Bush began to quietly line up donors, and the attention of the news media turned last week to policy disputes over Cuba between two other potential high-profile contenders, Senators Marco Rubio and Rand Paul, Mr. Carson was riding an under-the-radar groundswell.

In Iowa, which holds the first voting for nominees, a local chairman or chairwoman has been recruited in all 99 counties, something no other potential candidate can claim. A national committee to draft Mr. Carson into the race, Run Ben Run, has raised more money than the high-profile outfit urging voters to get "Ready for Hillary."

Though few Republican strategists expect Mr. Carson, 63, to be the nominee, they acknowledge his potential to throw a wrench into the establishment's desire to unify early, and the danger of turning off moderates if his divisive views continue to gain traction.

Mr. Carson has built a profile on heavy exposure as a commentator on Fox News, an uplifting biography and, especially, intemperate criticism of the Age of Obama that might seem to disqualify a major-party candidate…

His unfiltered remarks are embraced by parts of the Republican base in inverse proportion to the fits of outrage they inspire on the left. "To the base who are looking for someone completely different to shake things up, that probably makes them more of a fan," said Craig Robinson, a former political director of the Iowa Republican Party.

In Iowa, which has a history of rewarding nontraditional candidates, strategists regard Mr. Carson as more formidable than outsiders in the 2012 race like the pizza executive Herman Cain and former Senator Rick Santorum, who won the 2012 caucus.

An October poll of likely Republican caucusgoers in Iowa by The Des Moines Register and Bloomberg Politics put Mr. Carson in second place, with 11 percent, behind Mitt Romney.

A Fox News survey released last week of Republican voters nationally put Mr. Carson in the middle of a crowded field behind Mr. Romney and Mr. Bush…
Back in 2011, I gleefully fantasized about Herman Cain doing well enough among the GOP "protest voters" to force Mitt Romney to offer him the VP slot, because watching America's Whitest Vulture Capitalist share a stage with the 9-9-9 Pizza King was so rich in comic potential. A Jeb Bush/Ben Carson ticket doesn't have anywhere near the same comedic promise, but it would still be entertaining to watch the genuinely self-made pediatric neurosurgeon Dr. Carson respond to comparisons against a man whose entire career has been based on being born to the right parents…
***********
Apart from toasting confusion to our enemies, what's on the agenda as we start another (mostly abbreviated) work week?