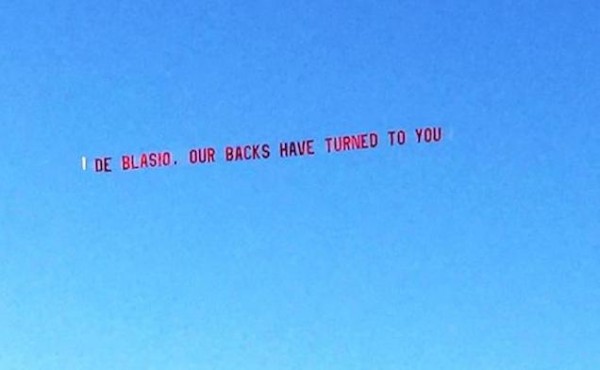 Last night, a bunch of cops and former cops paid to have the following Yodafied statement of disapproval flown over NYC in an apparent attempt to show their displeasure for the current mayor. All they have really accomplished to date is making themselves look foolish and evil, and now we know they can't write a simple sentence.
Today, Patrick Lynch's goon squad decided to up the ante, and after asking that all protests stop until the burial of the two dead officers so that the families could mourn, they pulled this little stunt:
Thousands of police officers from across the nation packed a church and spilled onto streets Saturday to honor Officer Rafael Ramos as a devoted family man, aspiring chaplain and hero, though an air of unrest surrounding his ambush shooting was not completely pushed aside.

While mourners inside the church applauded politely as Mayor Bill de Blasio spoke, hundreds of officers outside turned their backs on him in a show of disrespect for what they see as his support for anti-police protesters.

The rush of officers far and wide to New York for Ramos' funeral reminded some of the bond after the Sept. 11 attacks and Superstorm Sandy. Vice President Joe Biden promised that the "incredibly diverse city can and will show the nation how to bridge any divide."

Still, tensions were evident when officers turned away from giant screens showing de Blasio, who has been harshly criticized by New York Police Department union officials as a contributor to a climate of mistrust that preceded the killings of Ramos and his partner, Wenjian Liu.
Let's remember what horrible things de Blasio said to create this "climate of mistrust":
This is profoundly personal to me. I was at the White House the other day, and the president of the United States turned to me, and he met Dante a few months ago, and he said that Dante reminded him of what he looked like as a teenager. And he said I know you see this crisis through a very personal lens. And I said to him, I did.

Because Chirlane and I have had to talk to Dante for years about the dangers that he may face. A good young man, law-abiding young man who would never think to do anything wrong. And yet, because of a history that still hangs over us, the dangers he may face, we've had to literally train him—as families have all over this city for decades—in how to take special care in any encounter he has with the police officers who are there to protect him.

And that painful sense of contradiction that our young people see first, that our police are here to protect us, and we honor that, and at the same time, there's a history we have to overcome, because for so many of our young people, there's a fear. And for so many of our families, there's a fear.
Oh, the horror. He had to point out to his son that which is so widely known that it is backed up by repeated studies and so familiar to black and minority families across the country that this is referred to as "the talk":
"If you are stopped by a cop, do what he says, even if he's harassing you, even if you didn't do anything wrong. Let him arrest you, memorize his badge number, and call me as soon as you get to the precinct. Keep your hands where he can see them. Do not reach for your wallet. Do not grab your phone. Do not raise your voice. Do not talk back. Do you understand me?"
In other words, "the talk" is exactly what you would think cops would want kids to be told- don't be threatening, do what they say, don't raise your voice, and for the love of everything holy, don't reach for anything, even if they ask you, because this might happen:
Yeah. Mayor de Blasio really threw the police under the bus. Assholes.
And let's remember what is so particularly ugly about this- this is motivated as much by the desire to not reform and to maintain the current institutional racism as it is the current contract talks and union elections.
Fuck Patrick Lynch and his goons.