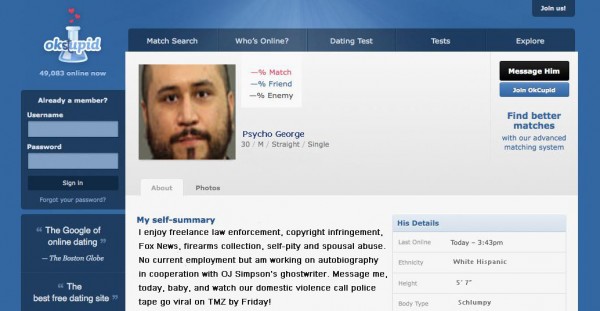 I never read "The Perks of Being a Wallflower," but my kid made me sit through the movie with her. I thought it was an awful film for the most part (and a criminal waste of the brilliant and hilarious Joan Cusack's time). But there was one line in it that stuck with me because it's so true: "We accept the love we think we deserve." Yep.
So when I hear about someone who is romantically involved with an abusive asshole, I don't understand it, but I try to remember that the person may have a gaping void where their self-respect is supposed to live and other issues I don't know about. I try to keep in mind that abusers typically don't come with a "Local Purveyor of Domestic Violence" tattoo on their foreheads, so I try to refrain from judging their hapless partners. But there are exceptions:
George Zimmerman allegedly threw a wine bottle at a woman he was intimately involved with in the incident which led to his arrest for aggravated assault with a weapon Friday night, according to new police reports released Monday…

According to the offense report written by one of the officers who interviewed the woman, she described Zimmerman as a "psychopath."
Ya think? Sometimes people are just goddamned stupid, end of story.