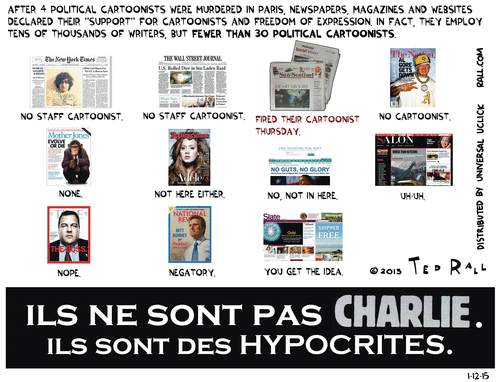 Further explication from Ted Rall's blog: "Want to Support Free Expression After Charlie Hebdo? Hire a Political Cartoonist":
… After the massacre of four cartoonists at Charlie Hebdo last week, 25 remain on staff at the French publication, whose circulation ranges between 30,000 and 60,000 per week.

In the United States, a total of 25 staff political cartoonists are employed by the nation's 1,350 newspapers, which have a combined circulation of 44,000,000 daily in print, plus 113,000,000 unique online visitors…
In other news, political cartoonist Jeff Danziger goes to the Washington Post with a fantastic idea for improving our political process:
Vermont should have a primary at the same time as New Hampshire's. Naturally, New Hampshire, in its spiteful and vicious cupidity, would set its primary before any specific date announced by Vermont. So Vermont's law has to be framed as follows: "The Vermont primary will be the same day as the New Hampshire primary." Hah! No matter what date they select, ours will be the same. They can fuss and sue and throw Sununu fits, but whatever day they choose will automatically be Vermont's, too.

That would mean that the millions in additional trade that goes to New Hampshire would be shared by Vermont. It would also mean that the beggar-thy-neighbor, hard-fisted, poor-mouthing, unchivalrous and ungenerous attitude of New Hampshire would be tempered by the kinder, warmer, more humane Vermont. No matter how much New Hampshire voters forced primary candidates to twist their taxation and social stances into the crabbed demands so common east of the Connecticut River, a countervailing attitude of fair play and friendly persuasion would prevail to the west…
And for us Massholes on the saltwater side of the state, this fine plan would have the additional advantage of reducing the number of attack ads that bombard the local media, because New Hampshire leaches most of its top-dollar media (along with so much else) from the Boston market. Of course, those Bay Staters on the other side of Springfield would see a comparable uptick on their airwave-annoyance scale…
***********
Besides wishing for nice things that will never happen, what's on the agenda for the day?