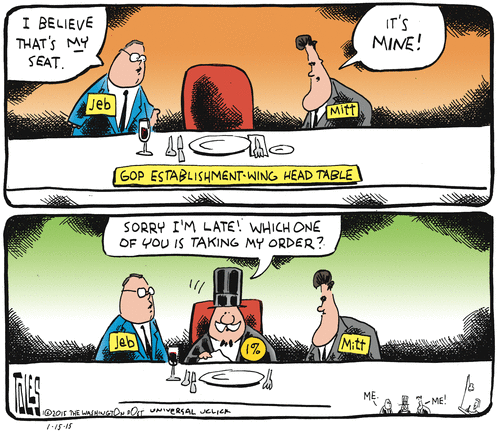 Notorious suck-up Ben Smith, currently of Buzzfeed, published an unbelievably up-sucking 'beat sweetener' on "How Reince Priebus Reinvented The Political Party":
… Priebus — a careful, trim 42-year-old from Kenosha, Wisconsin — will run unopposed for a third term this week at the RNC's Winter Meeting in San Diego. When he is done with that term, he will be the longest-serving RNC chairman in modern history. (His staff has done the math.) He has done this with almost no personal profile. Most people in Washington still can't pronounce his first name. (It rhymes with "pints.")

Yet Priebus has transformed the RNC from an organization whose reach and braggadocio regularly exceeded its grasp into a trim, effective piece of party infrastructure — in his terms, "the common denominator of the political universe."… The RNC's salvation is, ironically, the campaign finance regime that many Republicans oppose. And its pillars are data — the law gives it a singular role in passing voter data to other party groups; its remaining influence over the primary process whose outcome it no longer controls — and, above all, money…

Because of complex laws around coordination, the resources the Republican National Committee buys can be used and reused, passed around among Republican campaigns. Soft-money groups cannot share and coordinate like this. So instead of going to war with deep-pocketed outsiders like the Koch brothers, Priebus has found a role in their ecosystem. When it comes to data, for instance, the committee has — through an arrangement involving a new private company — essentially made itself the partner of a Koch-backed data company, i360, initially seen as a rival…
So, Priebus has proved his genius-osity by… selling his party to the Kochs directly, without all that fan-dancing burlesque of propriety common to lesser mortals. Truly, you can't spell "Reince Priebus" without "RNC PR BS"!
And now comes the first result of this strategery, as reported by NYMag:
For some reason, the Republican party wants to limit the amount of time its colorful cast of 2016 candidates has to attack each other on the national stage. Republican National Committee Chairman Reince Priebus has said, "We're not going to have a 23-debate circus," and on Wednesday the committee announced its next convention will be held a month earlier. While candidates are usually nominated in late August or early September, in 2016 Republicans will gather in Cleveland from July 18 to 21. "The convention will be held significantly earlier than previous election cycles, allowing access to crucial general election funds earlier than ever before to give our nominee a strong advantage heading into Election Day," Priebus explained…
This also gives the Democrats an extra month to point out the specific flaws of the Repub candidate chosen to ride on the hood of the clown car, but then: spoilt for choice.
Apart from contemplating the delights of Cleveland in mid-July, what's on the agenda for the day?