Sorry for my disappearance the last few days, but I have been hammered by the damned cold that Shawn had for a week, and have been doing nothing but sleeping and drinking fluids and being pissed off for the past couple of days. There were a lot of things I wanted to write about, including the fact that some idiot pig farmer from Iowa will be giving the Republican response to the SOTU, but I would get halfway through writing the post and say oh, fuck it. Someone else can cover it.
At any rate, my sister works with furkids and spends a lot of time rescuing pit bull and pit bull mixes, and you know how I feel about those fucking things, but I did tell her a while back that I would foster other dogs until they can be placed. This afternoon, she called me and said they have a special case they can not find anyone to foster, so I am going to take it on. Devon (my sister), used the old foot in the door technique on me, asking me if I would take care of a 10 year old poodle and her puppies, and I agreed. Then she told me that she had been mistreated and her toenails had grown in her pad. And oh, btw, they think she has breast cancer. Can you still do it?
I had two thoughts simultaneously- "Devon, you bitch" and "I could quite possibly be the worst person in the world if I don't take care of this dog."
So here is Ginger and her puppies: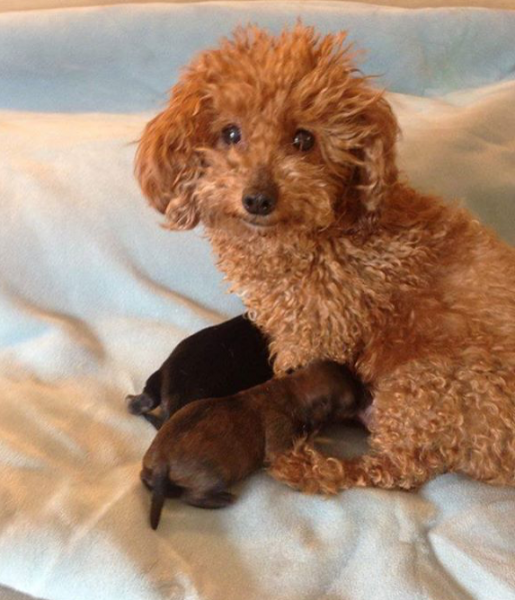 Devon will drop them off some time tomorrow, so I'm going to head to Petco and get some supplies tomorrow and basically put them in my bedroom and put a doggie door up in the bathroom. Devon says she came from some scummy people downstate and that she is super sweet, so I guess I will set up an appointment with the dog groomer and get her cleaned up and ready to find her forever home. I also demand naming rights, and if her puppies are male I am naming them Skipper and Gilligan.