The IRS doesn't have enough people to do their jobs and FOX News wants heads to roll!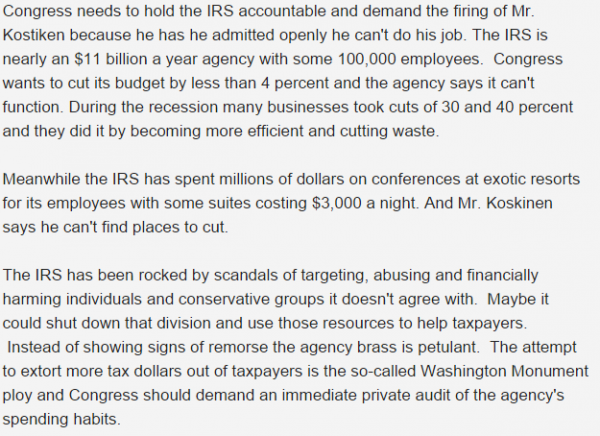 Only, yeah, it's the GOP who put them in this position.
But Republican lawmakers have managed to slash the tax agency's budget by more than $1 billion over the last five years and eliminate about 13,000 jobs.
So heads have already rolled.  Well, certainly all those job cuts have saved money, right?
Ordinary taxpayers have the bulk of their income reported by employers, and most taxes are automatically withheld. But businesses self-report much of their performance, just as wealthier taxpayers are supposed to come clean on capital gains.

"The only incentive we have to report accurately is the threat of being caught," Gordon said.

The IRS' Koskinen warned this week that the latest round of budget cuts for the agency means there will be 46,000 fewer audits this year. He also said IRS employees should prepare for unpaid leaves and reduced hours.

The cutbacks, Koskinen said, could mean that about $2 billion in tax revenue will go uncollected.
Oh.  So, instead of actually reducing deficits by slashing the IRA budget, we've actually made things worse by reducing revenues, particularly among corporate tax collecting.  But of course, that's the point, and Republicans are going in for the kill. A critically wounded agency is much easier to further damage.
Because why should government work?  We can't have that.