Here's all you need to know:
A Sentinel, Okla., man on Thursday shot the town's police chief four times and was then released from custody after questioning.
All lives matter and I'm glad no one was killed in this bit of 2nd Amendment insanity — but if after Martin and Brown and Rice and Crawford you still somehow wondered if white privilege were a thing, just give it up.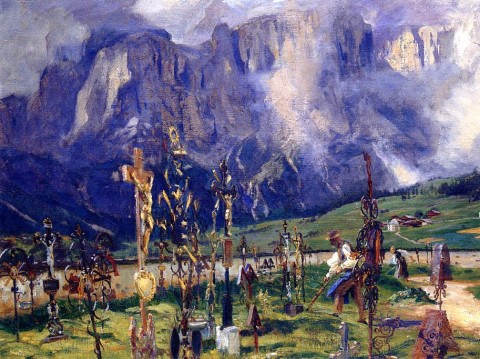 Sentinel Police Chief Louis Ross was shot in the chest three times and once in the arm Thursday morning after breaking down the front door and entering a house at 205 S 4, Sentinel Mayor Sam Dlugonski said.

The chief was wearing a bulletproof vest that was loaned to him by a sheriff's deputy minutes before the raid on the home. He survived the shooting, and authorities said the vest saved his life.

Dlugonski and a neighbor on S 4 both said the man detained in the shooting was Dallas Horton, who lives at 205 S 4. Investigating authorities did not release the man's name.

Agents with the Oklahoma State Bureau of Investigation said the man who shot the chief was released after hours of questioning when they determined they didn't have enough evidence to arrest him.

"Facts surrounding the case lead agents to believe the man was unaware it was officers who made entry," OSBI wrote in a news release.
Well, yes.  But then there's this:
Chief Ross said Washita County 911 received two calls from a man who identified himself as Dallas Horton, and claimed to have a bomb inside the head start school….

Chief Ross told News 9 he called for county back up before entering Horton's home.

Up to this point, Horton claimed he never knew any officers were in his home.

"Don't know what he heard or didn't hear screaming from five officers of the law announcing our presence, requesting to see hands," said Chief Ross.
I'm going to go way out on a limb here and state (a) it's amazing, just flat out gobsmacking, that anyone could shot a cop four times and not face a gazillion bullets coming the other way; and (b) that I simply cannot imagine the circumstances in which a non-white cop-shooter who did survive the initial event would be back on the street the same day.
That conclusion could just reflect my biases.  It certainly involves an inference beyond the facts known to me as I write this.  Still, American history and our recent past seem to tell a pretty consistent story to me:  African Americans, and especially black men, face the threat of violence under the cover of law to a degree that a middle class white guy like me cannot begin to fathom.  So I'm prepared to make the leap that the color of the shooter here made a difference in his treatment by law enforcement.  I certainly could be wrong:  any individual case can be an outlier in any direction.  But if I had to bet…
Again, I want to repeat something really important:  it's a great thing that neither the police chief nor the suspect are dead.  That's what we would want to see come out of moments of crisis in law enforcement.
I'm just noting here that I want that outcome for all those confronting the sudden presence of armed cops:  toy wielding shoppers, kids on a playground, young men walking, anyone.   Such happy endings shouldn't be reserved only for a gun nut who can be distinguished from those less fortunate individuals by — among other things I'm sure — the fact that he happens to be white.
Image:  John Singer Sargent, Graveyard in the Tyrol, 1914-1915.