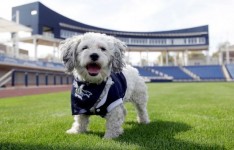 If anything will wake Cole from his puppy-admiring torpor, it's the chance to bigfoot. Soo… Tom Ley, at Deadspin:
Hank the dog, the very good dog that was adopted by the Milwaukee Brewers last spring after stumbling, half-dead, into the team's spring training facility, was named Dog of the Year at last night's World Dog Awards. Yes, shut up, that's a real thing. It aired on network TV and everything.

Hank triumphed over some stiff competition. The other nominees in the Dog of the Year category included a dog that is the mayor of Cormorant, Minn., the world's ugliest dog, and the dog that won Best in Show at the Westminster Dog Show. But Mayor Dog, Ugly Dog, and Show Dog don't have shit on Hank!…
Video, and a chronology of Hank the Dog posts, at the link. Hank really did look like "a diseased sewer rat" only a year ago, and now he's an advocate (advertisement) for dog rescue.
***********
What's on the agenda, apart from hitting refresh every five minutes?