Harold Pollack at Same Facts has a great map that shows where making Medicaid expansion optional is hurting people.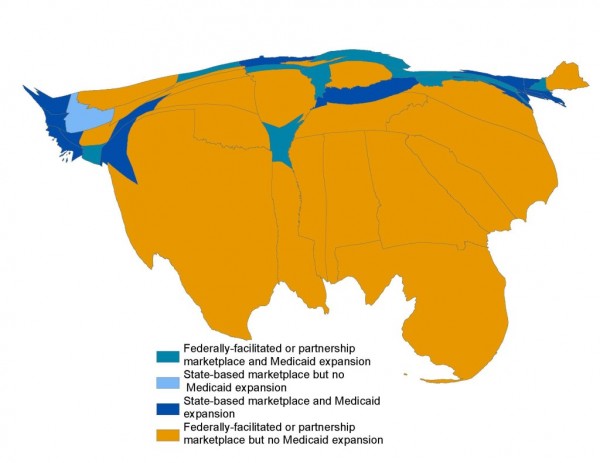 We know the upper Mountain West is looking for ways to tweak and twist their Medicaid programs to align with both conservative policy goals and liberal coverage expansion. We know Maine has an asshole for a governor but a non-veto proof majority in the Legislature that is pushing for Expansion.  We know Virginia has a split political elite that is slightly tilted against expansion.  But the Deep South is where there is a wide spread elite political consensus that it is best for their political leaders to stand in the hospital doors to prevent poor people from getting healthcare.  Arkansas is looking to regress from its expensive and convoluted but successful private option implementation to either nothing or far less for its poor citizens.
This was predictable, reactionary states that run on extraction economies and have a political history of nullification would nullify laws that threaten elite privilege however they could.  And the Roberts Court narrowly but consistently is providing a set of tools for nullification to work.
Don't like black people voting, well the sovereign dignity of the states is offended for the usual repeat offenders from being supervised despite there being a bail-out provision for good behavior.
Don't like poor people people living productive lives and not genuflecting to their betters — well Medicaid expansion is optional as the deal is coercive and insulting to the dignity of the states.
Don't like middle class people getting help to live productive and healthy lives while not genuflecting to their betters — well of course the language in the law authorizing subsidies is so clear that the CBO never even had to model what would happen if a state elected not to establish an exchange.