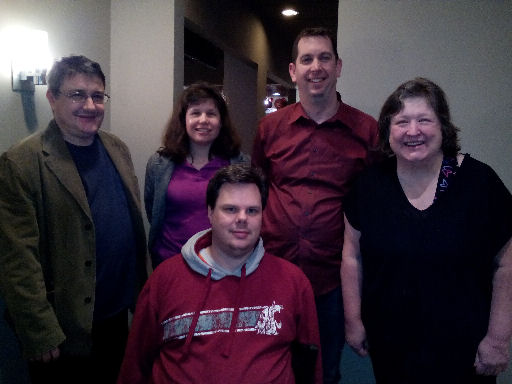 From commentor ThalarctosMaritimus:
Here are some pictures from the Seattle meetup. We met at Indo Cafe in North Seattle for Indonesian food. There was talk of consulting Amir Khalid for real-time advice on what he'd recommend from his neighboring country's cuisine–at UTC + 8, he'd have been awake–but Yatsuno's recommendations were very good ones, and they were generous with their portions. I had corn fritters for the first time ever, and the satay was delicious. All in all, a very nice dinner.

Lots of talk, political and non, and stories about previous jobs and places lived. We shut the place down–admittedly, not that late, as they close at 9–and before we left, the waitress offered to take a picture of us together (front: Yatsuno; back, left to right: Mike J, Tamara, Brian, and ThalarctosMaritimus).
***********
Anybody wants to spark a meetup in your area, send me an email (click on my name in the right-hand column, or annelaurie (at) verizon-dot-net) and I'll put up a post.