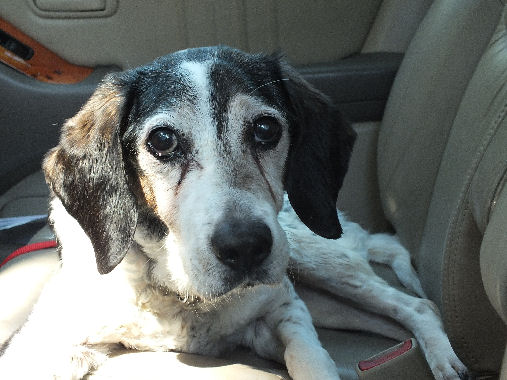 Sad news from commentor Tony S:
Snarls Barkley is gone. We had four lovely, fascinating, soothing, mysterious years with him, but his kidneys stopped working, and it was time to let go. I open this with a request: if you love dogs, and are looking to rescue one, please, give a senior or even an elder pup a home.

We've had 15 dogs in the 15 years we've lived in Peekskill. The shortest time we spent with one, Ariel, was a week and a half. The longest, Twinkles, was about 12 years. We had just four years with Snarls Barkley. But they were intense and rewarding ones, and his death leaves a sad gap in our lives.

Every rescue dog is a mystery. They cannot tell us what happened to them, but there are often hints, some of them quite awful. The papers that came with Snarls Barkley said he was found tied to the steps of a police precinct in the South Bronx on one of the coldest days of the year, with a freshly broken tail, a huge tumor on his leg, emaciated and filthy.

The tail healed, though it was 90% out of true; so when Snarls wagged his tail, it went up and down instead of sideways. He had a cough, especially when he was under stressed. Our vet said it was from tracheal separation, which happens when a dog is kept on a chain year after year after year after year.

When we first asked him to get on the bed, he ran from the room in terror, and curled up on some leaves in the back yard, almost shaking in fear. He became a canine sundial, moving with the light as the day progressed. When he allowed himself to join us, he took a space at the head of the bed, between the pillows. He turned small situations into treasured gifts. Nine years old when we got him, Snarls developed a small leakage problem, so made sure he slept on top of a towel. That towel quickly became his pride and privilege. The other dogs didn't have one, so Snarls knew he was special.

We've had some very demonstrative dogs. In fact, Snarls was the only canine we had that I trusted to take on a visit to one of my marketing and PR clients. He was a huge hit, silently following everyone around, silently rejoicing that so many hands were available to pet him.

Snarls was more than quiet. He had the war veteran's 1,000 yard stare, a sense of disbelief that he was warm, and comfortable, and petted, and cosseted. My wife, Celine, called it the "wha happened" look. We petted Snarls out of simple greed and selfishness. His fur was the silkiest and smoothest we'd ever encountered. Touching it was a wonderfully relaxing and rewarding experience, except for his rib cage, which felt odd and bumpy. When we had him X-rayed as he got sick, we found his ribs were concave. Someone did very bad things to this animal.

Snarls may have left the Bronx, but it never left him. If one of our dogs tried to poach from his food bowl, Snarls' response was quick and toothy. Once, our small terrier mix, Jessicur Lynch, was harassing Snarls just for the fun of it, as terriers sometimes do. Snarls took her head in his mouth and shook Jessica three times. She came back for more. Snarls repeated his action. Jessica realized she'd been bested, and retreated, a rare action for her.

A solitary dog, Snarls was a stealth snuggler. We would go to sleep with him alone in his spot, and wake up in the middle of the night with a silky presence curled up against us. Sometimes he would even forget himself and allow himself to curl up in a pile with our other dogs, or sigh softly as he rested his head on Celine's bare shoulder. Snarls also loved using his tail as a pillow. It was actually quite beautiful seeing him curled up on top of it.

As his illness progressed, Celine began giving Snarls deep massage. He adored not just the touch, but the fact that he was, once again, being singled out for special attention.

Snarls' departure was very much in harmony with his life; at once gentle, with a quiet pleading that someone take care of him and help him escape the awful disease that was devouring his life, and ferocious, in his relentless desire to keep on living, and trust that we who had rescued him could make things better again.

He wanted love, and he wanted to feel better. It's very painful that the only way my wife and I could release him from his terrible discomfort was to end his life. One of the last things he did before we gave him the goodbye medication was to walk over to the chair where I was sitting and softly put his head under my hand. I could not make him better. I could only say goodbye, wishing we could have had a few more years of his solid, stolid, grounding presence.

Then again, with the terrible bigotry against adopting elder dogs, I guess Snarls did luck out. So many his peers wind up murdered, simply because people aren't willing to take on what they think might be a challenge, but which is actually a gift. So please, when you go to a shelter, look the oldest, most weary in the eye, and take them home. It may not be for a long time, but it will be a rich one.