complete list of groups who stage protests at funerals: - Westboro Baptist Church - New York Police Department

— Matt Binder (@MattBinder) December 27, 2014
Here are two pictures. One from today at the funeral of Officer Liu where Patrick Lynch's goon squad ignored the Police Commissioner and turned their backs on the mayor, one from NYE in Pittsburgh where the police chief took a picture with citizens vowing to work to end racism within the Police ranks: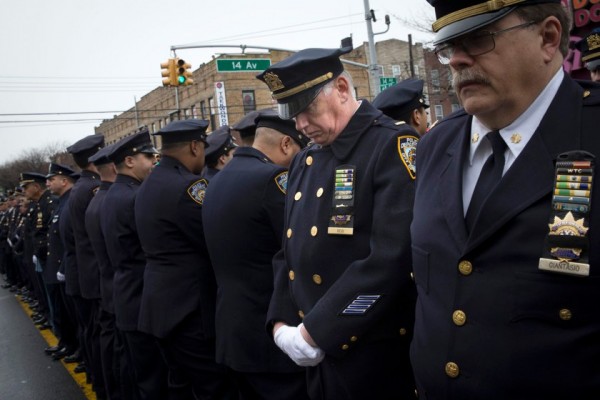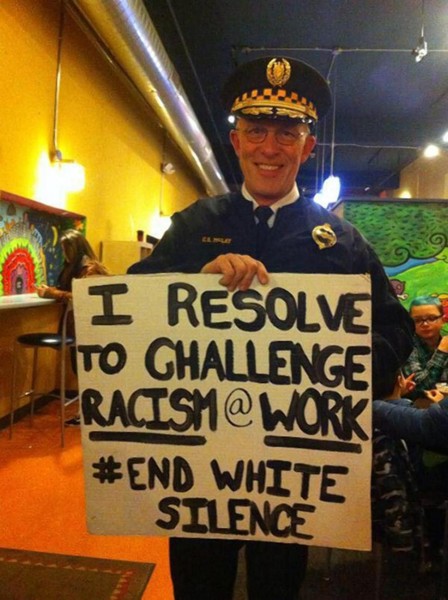 Now. Take a wild guess who is apologizing. Congratulations, you win the internet:
In an email to the entire city police bureau, Pittsburgh Police Chief Cameron McLay is responding to criticism of his appearance in a photo on Twitter in which he holds a sign challenging racism. The sign read, "I resolve to challenge racism @ work. #EndWhiteSilence." The chief's message to the rank and file came after a critical email from the president of the union representing city police.

"It appears my having been photographed with a sign supporting racial justice at work and (opposing) 'white silence' has offended some. If any of my PBP (Pittsburgh Bureau of Police) family was offended, I apologize. You are very important to me and I would never hurt you purposefully," McLay wrote.

The chief explains in the email that during a stop in a coffee shop at the city's "First Night" New Year's Eve celebration, he ran into a group asking people of all races to join in a discussion about racial inequality and injustice.

"We spoke for a few minutes about how implicit or unconscious bias results in misunderstanding on all sides, and how the need is for dialogue to clear up misunderstanding. They asked for me to take a picture holding a sign," McLay wrote.

"The sign indicated my willingness to challenge racial problems in the workplace. I am so committed. If there are problems in the PBP related to racial injustice, I will take action to fix them," the chief wrote.

"I saw no indictment of police or anyone else in this sign, but I do apologize to any of you who felt I was not supporting you; that was not my intent," McLay said in the email.

McLay's message followed an email sent to him earlier Friday by Pittsburgh Fraternal Order of Police President Howard McQuillan.

"…The recent Twitter photo has restarted the rebuilding of a wall between the Chief's Office and the rank and file, that we have been working tirelessly to tear down for some time now. We need to repair the department's morale, then work our way outward to the community," the union president wrote.

"…Our current Chief of Police (is) insinuating that we are now racist, merely by the color of our skin and the nature of our profession. I say enough is enough!" McQuillan wrote.
I'm now of the opinion that America's police force is mainly composed of the whiniest, wimpiest gits on the planet. And stupid as hell, to boot.