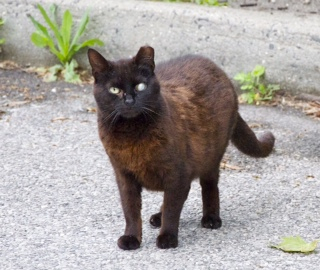 From commentor Johannes:
I'm writing again on behalf of the group of volunteers that run the cat colonies at the Brooklyn Navy Yard. Back after Hurricane Sandy, the Balloon Juice community supported the repair work that has kept the colonies flourishing these past two years, and helped us find a home for Sanders, the sweet cat with one eye. We're hoping that the blog can help once again.

Attached is a photo of a cat we call Morticia. Morticia, who is about six years old, has always been friendly — visiting with her was one of the perks of the volunteers' work at the Navy Yard — but recently we brought her to the vet to have an upper respiratory infection treated. She's fine now, and she is FeLV/FIV negative. She has a cataract in one eye, and is blind in that eye, which makes continued outdoor life dangerous for her. Before and after her vet visit, she was kept at one of the volunteers' home, and we realized that she is a house cat at heart. Even friendly ferals often aren't, but Morticia is serene, companionable, and is even okay with other cats. We're hoping to find a good home for her; she;'s indoors right now, and loving it, but she's in what can only be a temporary home.

Morticia would make a happy home happier, and her purrs will more than earn her keep.
As anyone who's had the privilege to live with one can tell you, tortoiseshell cats are the best. If you're interested in giving Morticia a permanent home, or know someone who might be, leave a message in the comments below or email me (click on my name in the right-hand column, or annelaurie at verizon dot net), and I'll put you in touch.