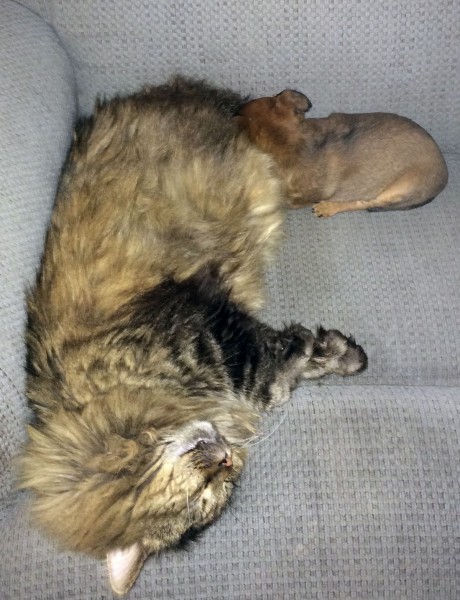 Five dogs and a cat is fun, but it is a lot of work. So between bored with the political scene and the ugliness and being up to my armpits in tootsie roll sized puppy shit, I stepped away from the blog for a little bit.
The puppies are really growing, and really starting to have their personalities come through. Ginger has the parenting skills of a turnip and wants NOTHING to do with her puppies anymore, Rosie and Lily don't want much to do with them, with Rosie getting bitchy because she is arthritic and doesn't want puppies bumping into her, and Lily is jealous, so she gets her little nose out of joint, so the slack has been picked up by Steve.
And he has been a champ. They love playing with him, and they'll bum rush him from both sides and he'll just flop over on his side and let them attack him while he bats at them. He never ever uses any claws, and really is a gentle giant. They also love their nap times with his floofiness, and he is quite content to let them curl up next to him and take advantage of his girth and his winter coat.
Last night, Steve was actually grooming Lovey. They were both sitting on Shawn's lap, and Lovey rolled over on her back and Steve licked and cleaned her from head to toe. It was really adorable, and they of course stopped as soon as I got the camera.
The puppies are constantly playing and getting into everything. I caught Thurston chewing on a hershey dark chocolate wrapper, and no one has had a candy bar of that kind in this house for at least six months, so I have no idea where the hell he found it. I went out and did some things this morning, and when I came back, took a nap. I just hung my pants on the knob of my bed, and went to sleep (all five dogs have to be in my room during naptime because otherwise I am getting up every 5 minutes to let one in until everyone is inside, so I just parade them all in before I even try to sleep). When I woke up, I found them on the floor with Lovey and Thurston sleeping on them. Shooed them off my britches, put them on, and the little bastards had chewed a softball sized hole in the ass of them. More rags for cleaning, I guess.
Both are quite independent, but Lovey is more of a pack follower than Thurston. If Lily and Rosie are sleeping, she goes and lies next to them and models them. Thurston is more content to just do his own thing, and we find him in all sorts of odd places sleeping by himself. Probably precisely where he collapsed after his latest burst of energy.