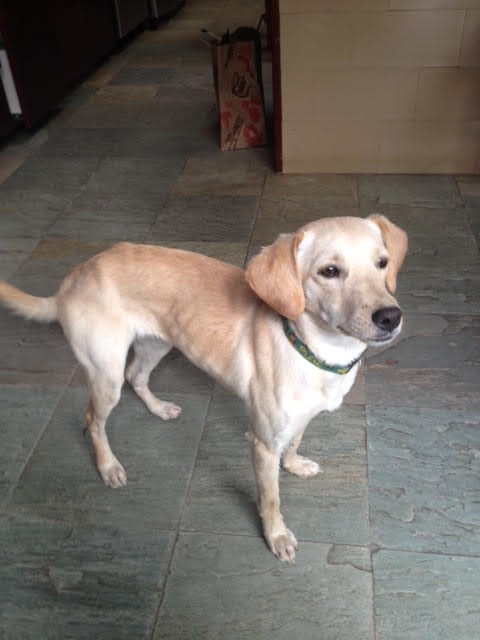 From commentor Prometheus Shrugged:
Nya, a 10-month-old beagle, labrador mix, was rescued from the Humane Society of Imperial County on January 10, 2015. This scrawny puppy had been overlooked at the shelter for two months and needed a rescue to save her. We took one look at Nya's protruding ribs and knew we needed to help. Nya was placed in a loving foster home where our first step was to put on some much needed weight. Despite being parasite free, Nya proved to be a very picky eater – almost to the point of being anorexic. Her blood work looked normal, leaving us perplexed. Our goal was to find a food, any food, that Nya would eat.

On February 20, 2015, Nya was rushed to Veterinary Specialty Hospital after she went into respiratory arrest after a larger-than-normal meal. Chest X-rays revealed that Nya had a diaphragmatic hernia – a small hole in her diaphragm that allowed her liver, stomach, and small intestines to migrate into her chest cavity. Her food-filled stomach was pressing on her heart and lungs, causing a rapid heart rate and labored breathing. Our vets believe the hernia was congenital, since Nya has no injuries that indicate the condition was caused by trauma. Dr. Fryer performed a flawless surgery the following day and for the first time in our care, Nya's lungs were able to fully expand in her chest cavity!

We have been fostering dogs for "The Rescued Dog" here in San Diego for a couple of years, and Nya, is, hands down, the sweetest dog I've ever been around. She loves all humans unconditionally and has been great with the other pets in our house (AKA our "foster failures"). The surgery, though expensive, seems to have been a success. Assuming she heals properly, and regardless of any fundraising, she should soon be adoptable.

She would make an ideal companion for anyone wanting or needing a little love and affection–i.e. approximately everybody. I would be happy to provide more details to anyone who might be interested. We've had her for more than a month now, and I took all the non-hospital photos on the webpage (the obligatory "dogs making the bed" shot should look familiar). So I have a reasonable sense of her personality. As I said, unadulterated sweetness.

As far as I can tell, most rescue operations seem to be noble organizations, and "The Rescued Dog" is no exception. (I'm not affiliated with them in any way other than providing a foster home.) Their strategy is to go to the rapid (5-day) kill shelters throughout Southern California and rescue the ones that seem most adoptable. They pay for all medical expenses prior to adoption (including spaying/neutering, vaccinations, and, occasionally, major medical expenses such as Nya's) and then make the adoption process as painless as possible. Their track record for choosing the most affectionate dogs has thus far been impeccable. However, like most rescue organizations, they do operate on a shoestring budget; not surprisingly, vet bills like Nya's totally wipe them out.
Poor girl, I'm guessing she's been a 'picky eater' because a full stomach was so uncomfortable for her. If you can, please spread the word (Facebook, etc.). And if you're interested in giving Nya a permanent home, or know someone who might be, leave a comment or contact me (click on my name in the right-hand column or annelaurie at verizon dot net).