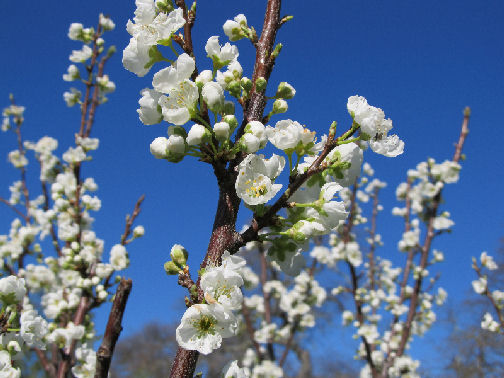 From faithful garden correspondent Scout211:
I am sending some pics from Northern California to brighten up some Balloon Juicers' winter blues out there in the cold and snowy areas of the East and Midwest.

The first pics are in my raised bed veggie garden, which right now only has strawberry starts (pic 1) and early rhubarb (pic 2). Not pictured are my blueberry bushes in one raised bed. They are still wintering, for the most part.

Our apricot tree is now in bloom, as is the plum tree [pic at top of post].

We had one weekend of heavy rain this February that produced lots of green grasses (and weeds) and jump-started the wildflowers. The Blue Dicks are the first wildflowers we usually see and here is a pic of a little group of them.

I have 8 tomato plants that I have already replanted into larger pots (pic 6) from starts that I bought at the nursery. I wheel them into the sun during the day and back into the heated garage overnight. We still have some evening temps in the upper 30's but usually the days are in the 60's to 70's. This year I have 4 Ace, 2 Celebrity, 1 Brandywine and 1 Royal Flush.

The last pic is of a few of our chickens. We lost 4 last week to coyotes, but we still have 8 hens and 1 rooster. The Mister will be ordering new chicks soon so we will have some new layers by fall.
***********
I've been remiss — distracted by the endless snows here — and need to put together my shopping list for mail-order tomatoes before my favorite sites sell out!
What's going on in your garden (or garden planning) this week?