Via Buzzfeed, here's an amazing photo of a baby weasel riding a woodpecker: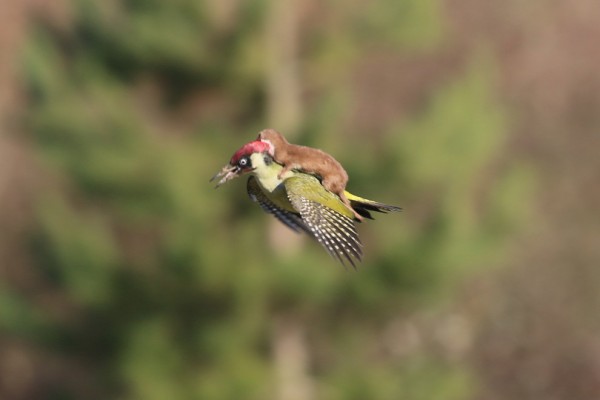 According to the photographer, the weasel was trying to bring the bird down to eat it, but the woodpecker ultimately escaped after giving the weasel a brief taste of flight.
In other news, Israeli PM Netanyahu is scheduled to address Congress at 10:45 ET this morning. (PBO is pre-trolling the PM's speech, and good for him!) The early hour precludes diplomatic breach-speech drinking games for us working stiffs, damn it.
Speaking of diplomatic skull-fuckery and drinking games, is anyone watching the third season of "House of Cards," now streaming on Netflix? [Mild spoilers ahead.]
I watched several episodes late last night. (The plot lines are increasingly absurd but still more interesting than playing yet another dreary round of PUMAs vs Obots. That's so 2,000-and-late!) I was bitterly disappointed to find that the loathsome Stamper lived through last season's noggin-bashing.
Also, I think I spotted an anachronism — y'all help me out. When attempting to gain the trust of the Secretary of State, the First Lady challenges her to a round of beer pong after a state dinner gone awry.
Both characters, who are older than I am in real life AND on the show, claim to have excelled at beer pong in college. I don't think beer pong was a thing back in the late 80s / early 90s, was it?
We used to play "quarters," which is essentially the same thing as beer pong but with coins rather than ping pong balls. But maybe beer pong is yet another trend that took decades to filter down to Florida, long after the rest of the country knew of it.
Open thread.