So Israeli Prime Minister Binjamin Netanyahu wants the US to scrap negotiations with Iran over Iran's attempt to get nuclear weapons.
Let us set the wayback machine to 2002…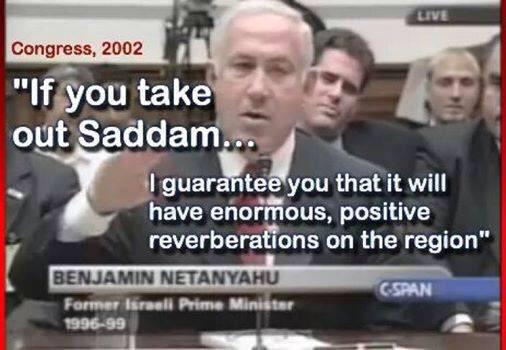 I think we all know how well that worked out for the USA and the region.  Do we really want to expend more blood and treasure on this man's recommendation?
And while we're on the subject of US national security and Israel…
Jonathan Pollard was a spy for Israel.  He stole US secrets and sold them to the Israeli government.  Which government then passed some if not all of those secrets to the Soviet Union for the purpose of securing the release of Soviet Refuseniks to emigrate to Israel.  And that's not just alleged in the Wikipedia link.  It's something that was stated to me by two retired career senior US Intelligence personnel.  It's also something that was verified by the Mitrokhin Archive.
And then there's Israel murdering US military personnel in international waters during the USS Liberty incident.  They killed 34 US personnel, and wounded 171, and we won't even get into the value of the ship itself.
ISRAEL IS NOT OUR FRIEND. They are, from time to time, an ally, but one we should see in the same light as they clearly see us, which is to say that they should be courted and supported when it is useful to US purposes to do so, and not when doing something else would be more advantageous.  Remember what that friend of Israel, Henry Kissinger said, "America has no permanent friends or enemies, only interests."
I speak only for myself.  None of the other Front Pagers, nor John are responsible for what I post.