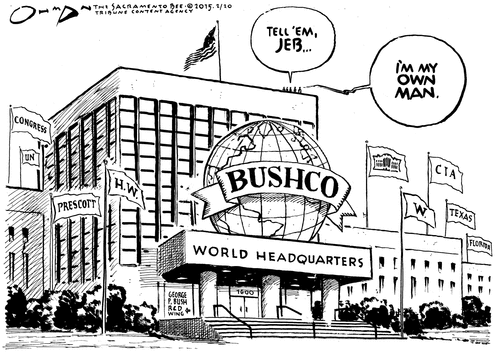 Mattea Gold, at the Washington Post, on the legacy candidate who is "Awash in Cash":
An unusual request has gone out to wealthy donors writing large checks to support former Florida governor Jeb Bush: Please don't give more than $1 million right away.

The requested limit, confirmed by multiple people familiar with the amount, may mark the first time that a presidential hopeful has sought to hold off supporters from contributing too much money.

The move reflects concerns among Bush advisers that accepting massive sums from a handful of uber-rich supporters could fuel a perception that the former governor is in their debt. The effort is also driven by a desire to build as broad a pool of donors as possible among wealthier contributors…

Bush has yet to officially declare his candidacy, but he is already on track to raise tens of millions of dollars by the end of this month for two political action committees, both named Right to Rise, that were set up in January. His potential rivals have acknowledged that they have little hope of matching his current pace…

Bush is entering his third month of an intensive, cross-country fundraising tour that has included stops at lavish Manhattan apartments, premier Washington lobbying shops and luxury hotels in Florida…..
Look, parvenus, you can't just buy a scion of the Bush Crime Clan. But if you are willing to be patient and stand by, his people will be happy to ensure that everyone has a chance to rent a chunk of Jeb. Be aware that seaons ticket holders receive seating preference over one-time buyers!
***********
Apart from acknowledging that There Is A Club, and We're Not in It, what's on the agenda for the evening?