Nothing but unicorns and rainbows in this post.
Every now and then, rarely, a book comes along that makes you want to grab strangers on the street and hold them by their shirtfronts until they promise — pinky swear, no mental reservations allowed — that they will get and read that irreplaceable book as soon as you let them get go.
I'm a few pages into that book.  So I'm doing all that to you, grabbing hold as firmly as I can, to the limit our intertubes allow.
The work is Helen MacDonald's H is for Hawk.*  It is a work of intensely observed natural history, if that's the way you take it.  From another angle, it's a memoir of grief.  From any point of view, it's a work of art.  MacDonald's prose is simply beautiful: resonant on the sentence level, unbelievably sharp — you'll cut yourself on her images — and even in the slow entry I've allowed myself so far,** possessed of an accumulating beauty that reminds me of something I too easily forget, why it is I love the practice of words.
For a proper learned review, a lovely piece of writing in itself, see Kathryn Schulz's elegant review at The New Yorker.  Here's a taste:
Macdonald's story has a different ending. One day, crouching over a rabbit she has just killed, feeling like "an executioner after a thousand deaths," she comes to see that she has been travelling with her hawk not further from grief but further from life. Scared by her own numbness and darkness, she begins to seek help: from loving relatives, attentive friends, modern psychopharmacology—all the advantages she had that White did not. Slowly, her grief starts to lift. As it does, she finds that she disagrees with Merlyn and Muir. "The wild is not a panacea for the human soul," she writes. "Too much in the air can corrode it to nothing." All along, she had wanted to be her hawk: fierce, solitary, inhuman. Instead, she now realizes, "I was the figure standing underneath the tree at nightfall, collar upturned against the damp, waiting patiently for the hawk to return." Her father, she knows, will never rejoin the human world. But she can. Like a figure in a myth who followed a hawk to the land of the dead, Macdonald turns around and comes home.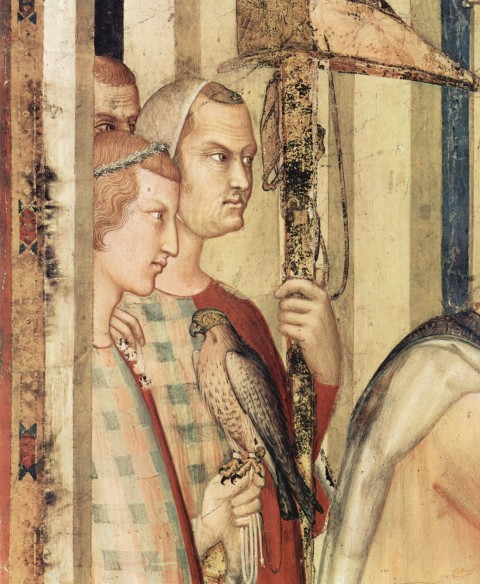 For my part, I'll just tease you with the first paragraph of the book.  It's a soft open:
Forty-five minutes north-east of Cambridge is a landscape I've come to love very much indeed.  It's where wet fen gives way to parched sand.  It's a land of twisted pine trees, burned out cars, shotgun-peppered road signs and US Air Force bases.  There are ghosts here:  houses crumble inside numbered blocks of pine forestry.  There are spaces built for aid-delivered nukes inside grassy tumuli behind twelve-foot fences, tattoo parlours and US Air Force golf courses.  In spring, it's a riot of noise:  constnt plane traffic, gas guns over pea fields, woodlarks and jet engines.  It's called the Brecklands — the broken lands — and it's where I ended up that morning, seven years ago, in early spring, on a trip I hadn't planned at all. At five in the morning I'd been staring at a square of streetlight on the ceiling, listening to a couple of late party-leavers chatting on the pavement outside.  I felt odd: overtired, overwrought, unpleasantly like my brain had been removed and my skull stuffed with smoething like microwaved aluminium foil, dinted, charred and shorting with sparks.  Nnnngh. Must get out, I thought, throwing back the covers. Out! I pulled on jeans, boots and a jumper, scalded my mouth with burned coffee, and it was only my frozen ancient Volkswagen and I were halfway down the A14 that I worked out where I was going, and why.  Out there, beyond the foggy windscreen and white lines, was the forest.  The broken forest.  That's where I was headed. To see goshawks.
A soft open indeed.  Action, of a sort, but (as yet) not terribly consequential.  A character, with whom we haven't had the chance to form a bond of sympathy.  Lists.
And yet, as I read these few lines again, I'm sitting here gobsmacked, full of professional admiration, taking notes.  So much good writing, so much promise, in what, told baldly, is an utterly unpromising scene.  (I couldn't sleep so I got in my car to look for some birds in a nasty bit of wasteland.)
What I'm feeling on this read is the rhythm.  MacDonald's a published poet, among other things, and she writes prose that recalls that discipline, with word-by-word attention to sound and beat, to build into a play of sentences that imposes a kind of music on top of sense.  As I've dived further into the book I forget, sometimes, to pay attention to that kind of fine-grained technique.  Instead, I'm being carried along by who she is and why she's doing what she's doing.  As Schulz says, this is a "wondrously atypical book."  It delivers its goods polyphonically; there's always another level to experience.
I'll stop there, but I hope you won't.  I'm grabbing you, folks.  I'm pulling hard on your lapels.  I'm leaning in.  I'll speak slowly, so there's no chance of a failure to communicate.
Buy this book.  Read it.
You can thank me later.
*Amazon link for reference purposes.  If you can support your local bookshop, it's the policy of this blogger to encourage you to do so.
**I've had to stop myself from dropping everything — sleep included — and racing too fast through this one.  It really is that good.
Image:  Simone Martini, St. Martin of Tours, 1322-1326