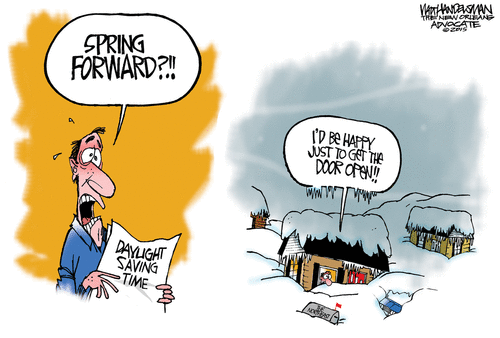 Consider yourself PSA'd. As an additional rouser, the NYTimes' Jennifer Steinhauer profiles Nancy Pelosi:
The quarterback Brett Favre has long retired. Cher shut down her most recent tour. Representative Nancy Pelosi — repeatedly written off and derided since her party lost the House in 2010 — powers on.

Ms. Pelosi, 74, maintains unwavering control over Democratic members of the House on legislation — in contrast to the House speaker, John A. Boehner, who continues to struggle with his cacophonous caucus — and she may be a surprisingly vital tool for the White House at the end of President Obama's tenure.

Her lasting authority was demonstrated this week when she helped pass a measure from the Senate to avoid yet another government shutdown. That vote "strengthened our hand," Ms. Pelosi said, a sentiment that many Republicans, who are eager to show that they can effectively govern, agree with, teeth clenched.

On the same day that she helped the vote to fund the Department of Homeland Security sail through the House thanks to Democratic support, Ms. Pelosi, the minority leader, served as the embodiment of White House rage over a speech by the Israeli prime minister, Benjamin Netanyahu, to a joint meeting of Congress….

"If they thought I was rude," Ms. Pelosi said during an interview in her Capitol Hill office as snow fell outside, "you can't imagine how restrained I was!" Breaking for a millisecond from her normal studied dismissal of her omnipresent critics, she added, "I have endured so many around here."

Ms. Pelosi's continued reign often surprises, but it is based largely on her ability to manage her members, one at a time. It is generally easier to maintain cohesion in the minority, where members live to block the will of the majority. Further, two Republican waves in the House swept out most moderate Democrats, rendering the caucus more ideologically unified against Republicans, and more aligned with her brand of liberalism.

"I don't think it takes a lot of skill to vote against an agenda," said Representative Charlie Dent, Republican of Pennsylvania…
And if there's anyone who's got experience in that area, it would be our modern Republican member.
Gotta love the barely-concealed Media Villager pique that Rep. Pelosi — who, in their estimation, is just another high-dollar entertainer like Favre or Cher — will not take their advice to retire already, and let them have a fresh new chew toy. Or, at the very least, she could curl up in the media-approved Democrat Fetal Position(tm), and stop insisting on doing her job while the toddlers on the other side of the aisle scream & fling poo. Rep. Pelosi raised five kids before getting into Congress, she's got plenty experience dealing with cranky tantrums.
***********
Apart from such minor irritations, what's on the agenda for the day?