Christion stopped by for dinner, and afterwards sat down and was immediately claimed: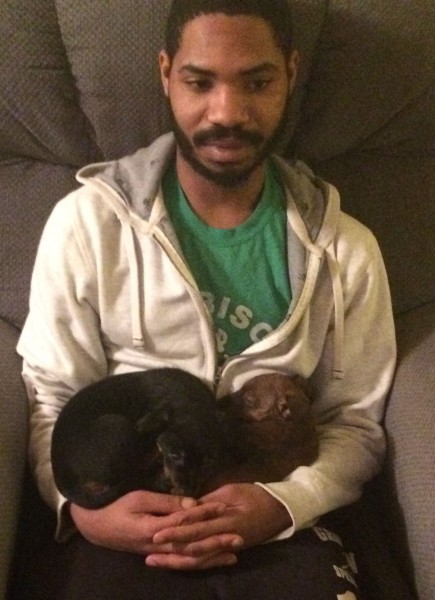 Basically, these are going to be the best socialized puppies in the world by the time they are adopted. Well, by the time Thurston is adopted, because as you all know by now, commenter geg6 was approved by Furkids and will be picking up Lovey at the 12 week mark (4 weeks from now). We're planning to meet in the interim so she and Koda can meet Lovey- probably at a dog park. I'm going to get the puppies their shots tomorrow or Friday, so hopefully soon.
On the personal front, I didn't sleep well last night, and it is starting to look like I am really going to have to consider getting my reconstructive shoulder surgery sooner rather than later. I can't sleep for more than an hour before my right shoulder freezes into place, and with it being bone on bone, it's kind of excruciating to get it mobile enough to move so I can fall back asleep. Like- hurts so bad it takes your breath away. Wasn't so much an issue when I was drinking (and, in fact, one of the reasons I was drinking), but now that I am living the clean life, it hurts. A lot. We were trying to hold off a couple more years, but I'm not sure I want to keep on like this or for how much longer I can.
Speaking of drinking, according to Maddow, two secret service officers were caught crashing their car into a WH barricade after a late night of drinking.