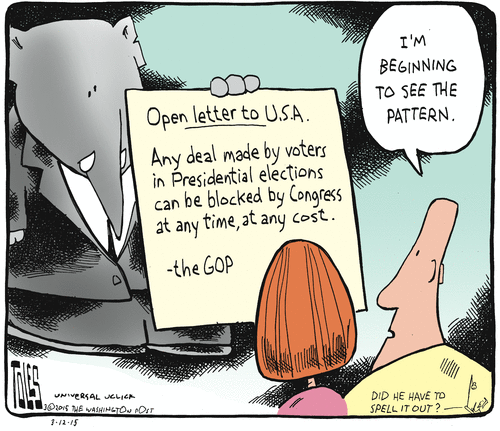 How laughable are the noisiest members of the GOP? Well, it's all fun and games until somebody shoots at Fort Sumter, right? Mr. Charles P. Pierce:
… The modern Republican party has become an authentic mechanism for political subversion, and it's not just unknown crazy people from Texas who are driving the train. A rookie meathead submarines the president's foreign policy. Rick Perry is currently running for president on a platform more suited to a campaign conducted under the Articles of Confederation. Mitch McConnell, the majority leader of the United States Senate, has suggested that governors out in the several states ignore the Environmental Protection Agency. At every conservative gathering, from CPAC on down, there at least is one panel touting the benefits of nullification and old-school states rights politics. Yes, a lot of it is about how states rights got whipped over civil rights in the 1960's, but it's not all about race. It's about a deliberate, calculated attempt by one of the only two political parties we allow ourselves to dismantle the federal union. They want the country to come apart so they can sell off the pieces to the people who run their campaigns. They are free to prove to me that I'm wrong.

… This heresy, which should have died at Gettysburg, is part and parcel of the modern conservative movement, which was born out of the flotsam left behind by the (partial) fall of American apartheid. For years, Republican politicians have accepted the money, and the support, and the cheers of nullification subversives from the League of the South and the Council of Conservative Citizens to the Wise Use people and the militia people out west, to the claque of subversives who set up camp at the Bundy Ranch. Without the support of people engaged in polite — and, occasionally, not very polite — sedition, the Republican party would be a bunch of rich old white guys pissing themselves in the grill room of a restricted country club…

The Republican party is a mechanism for the subversion of the federal republic. It doesn't matter if the party's stars are doing it to please The Base, or because they don't know any better, or because they think it's the right thing to do. They are actively working to undermine the American union…
Daniel Drezner, in the Washington Post, asks "Heckuva Job: Why is the GOP-led Congress making such a hash of foreign policy?":
… If the GOP response ranges from sheer denial of a problem to "¯\_(ツ)_/¯", that's a sign that they're not serious at all about foreign policy…

These kinds of stunts would have been vetoed by party leaders in Congress even a decade ago, because there were people who'd been in Congress for a while, had earned seniority, and could have told everyone how this was going to play out. But an awful lot of the GOP Senate caucus is new to that chamber, and you have the old bulls, such as Sen. John McCain saying things like, "I saw the letter, I saw that it looked reasonable to me and I signed it, that's all. I sign lots of letters." Which is code for, "what was in that letter again?"

… In the olden days, members of Congress burnished their reputation by putting forward concrete policies and getting legislation passed. But passing bills through Congress is rarer now, and modern-day Republicans are not really rewarded for passing legislation, they're rewarded for disrupting government. This gives backbenchers like Cotton an incentive to engage in some Schumpeterian "creative destruction" and get rewarded for it with more campaign contributions. The effect such stunts have on foreign policy are secondary…
Speaking of old bull(s), Lindsey Graham, of the state "too small for a republic, too large for an insane asylum", apparently decided he needed to get in on the conversation before the young guns stole all the limelight. As reported by Vox:
Republican senator and presidential maybe-hopeful Lindsey Graham stopped by the "politics and pies" forum in Concord, New Hampshire, today, where he announced that if he is elected president in 2016, his first act will be to deploy the military in Washington to force Congress to reverse cuts to the defense and intelligence budgets.

Yes, you heard that right. Here are Graham's exact words:

And here's the first thing I would do if I were president of the United States. I wouldn't let Congress leave town until we fix this. I would literally use the military to keep them in if I had to. We're not leaving town until we restore these defense cuts. We are not leaving town until we restore the intel cuts.…
Area Outlet Not Familiar With Area Politician's Hyperbolic Jokes pic.twitter.com/f9D8vrp0qI

— daveweigel (@daveweigel) March 11, 2015

***********
Apart from noticing how these 'jokes' get more heated & less funny every week, what's on the agenda today?