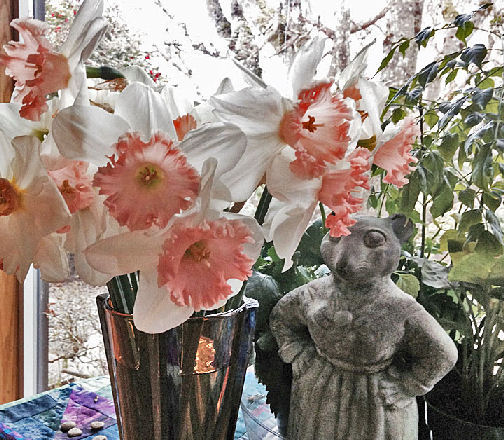 From faithful commentor Marvel:
We've had a mild Winter and a lovely saunter toward Spring — warmish with just enough rain. Everything's freakishly ahead of schedule, e.g., we've been harvesting asparagus for several weeks — the first of them burst upon the scene at the end of January (I know!!!!!!).

The daffodils are blooming all over — the lovely salmon/pink ones knock me out every year.

We're happy to be off our duffs and finally working & playing outside again — I hope you can too, soon.
***********
Here just north of Boston, my "tomato garden" — empty planters on the blacktopped driveway — is emerging from under the melting snow piles. But it'll be a few more weeks before the now-compacted mounds melt enough for my own cherished pink, white, and yellow daffodils to spring up in sequence, first in the sunny south-facing front beds, then in the eastern chimney-pocket corner, then against the backyard chainlink, and finally in the western side yard under the neighbor's overhanging oaks. (All these microclimes, on a parcel merely 75×80 square feet!) Of course, since this is New England, there's about a one-in-four chance that the poor little shoots will be battered by at least one last snowstorm as they grow…
How are things going in your gardens, or garden plans, this week?