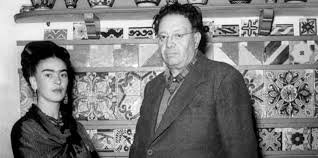 The iconic Mexican painter Frida Kahlo liked to fuck around with people. In 1932, Kahlo was 25 years old and relatively unknown. She and her husband, the celebrated painter Diego Rivera, were in Detroit, where Rivera was painting several murals.
Upon meeting Kahlo, a Detroit News reporter asked if Kahlo was also a painter. Kahlo replied, "Yes. The greatest in the world." The reporter later visited Kahlo at home to do a cutesy story about how Rivera's little woman is also a little painter. During the interview, Kahlo said this: "[Rivera] does pretty well for a little boy, but it is I who am the big artist."
Frida Kahlo: Visionary artist. Fearless rocker of a unibrow. Feminist icon.
Open thread.
H/T: Vox