One of the things I was quietly tracking was any indication that people in non-Medicaid expansion states who were near but slightly under 100% of Federal Poverty Level would be very optimistic in their estimates of 2015 income to get to 100% FPL.  At 100% FPL, they become eligible for subsidies and Silver plans that pay 94% of expected expenses.  A priori, I would have expected to see non-Expansion states to have a very low percentage of people buying coverage on the Exchange who make under 100% FPL (mostly immigrants who) compared to Expansion states as immigrants are not Medicaid eligible for the first five years in the country.
I was wrong.  Charles Gaba has the graph to show it: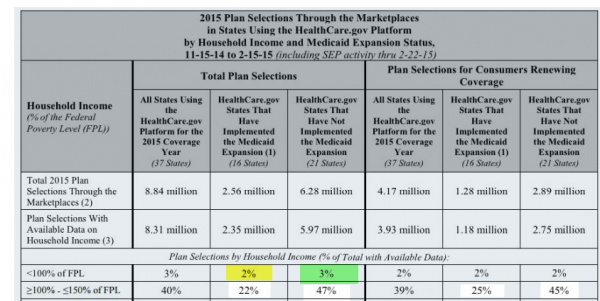 Healthcare.gov non-expansion states had more people who made under 100% FPL buying plans than expansion states did.
If my theory was right that there was aggressive estimating of incomes for people in the 90% to 99.99% FPL band to get to 100% FPL, the opposite result would be the first visible indicator.  Has it happened?  Yes.  Has it happened on a widespread basis?  No.