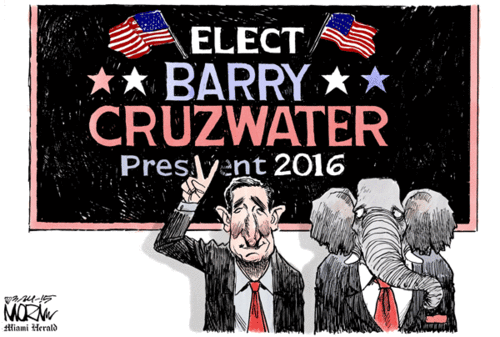 In you guts, you know he's nuts! By the time Ted Cruz was in law school, poor old Goldwater would complain to John Dean:
"Mark my word, if and when these preachers get control of the [Republican] party, and they're sure trying to do so, it's going to be a terrible damn problem. Frankly, these people frighten me. Politics and governing demand compromise. But these Christians believe they are acting in the name of God, so they can't and won't compromise. I know, I've tried to deal with them."
Speaking of demented authoritarians, it's gonna be interested to see the pushback here:
Dozens of climate scientists and environmental groups are calling for museums of science and natural history to "cut all ties" with fossil fuel companies and philanthropists like the Koch brothers.

A letter released on Tuesday asserts that such money is tainted by these donors' efforts to deny the overwhelming scientific consensus on climate change…

The letter is a project of the Natural History Museum, a mobile museum that draws attention to "social and political forces that shape nature yet are left out of traditional natural history museums," said its co-founder and director, Beka Economopoulos.

A petition drive, also released on Tuesday and sponsored by environmental organizations including Greenpeace and the Sierra Club, urges the Smithsonian and the American Museum of Natural History to "Kick Koch off the board!"

Michael Mann, a climate scientist at Pennsylvania State University and signer of the letter, said the donors seek a halo they do not deserve. "Cloaked in the garb of civic-mindedness, they launder their image while simultaneously and covertly influencing the content offered by those institutions," he said…
***********
Apart from watching the birds flip by, what's on the agenda for the day?