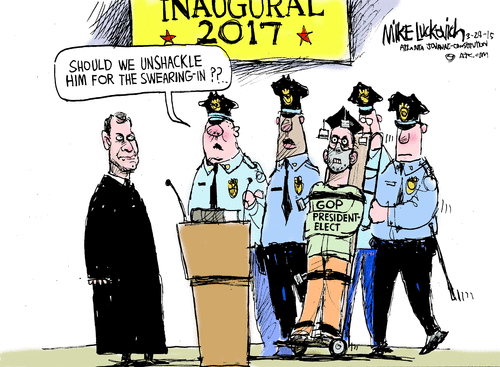 Crazy, maybe; stupid, well… Eric Wemple, at the Washington Post:
Here's some interesting accountability journalism: CNN's Dana Bash asked Sen. Ted Cruz, a freshly announced 2016 presidential candidate, how his family would get health insurance now that his wife has taken an unpaid leave from her job at Goldman Sachs. "We'll be getting new health insurance and we'll presumably do it through my job with the Senate, and so we'll be on the federal exchange with millions of others on the federal exchange," the Texas Republican told her.

Yes, there's irony there, as Bash noted in her interview. Cruz's statement means that he'll be getting insurance through the Affordable Care Act, the same law he has committed himself to repealing….

Next issue: Will he take the federal "subsidy" that others on Capitol Hill accept to defray their costs? asked Bash. "We will follow the text of the law," Cruz said. "I strongly oppose the exemption that President Obama illegally put in place for members of Congress because Harry Reid and Senate Democrats didn't want to be under the same rules as the American people." So Bash wanted to know if Cruz would accept the "subsidy." "I believe we should follow the text of the law," said Cruz, repeating himself…
A formulation that reminded me of a former GOP stalwart who, despite undergoing surgery to remove cancerous polyps from his colon, insisted that he'd never had cancer. "I had something inside of me that had cancer in it, and it was removed," he insisted. So, in that sense, I guess you could call Ted Cruz… Reagan-esque.
Louie Gohmert assures me that Ted Cruz is not a "bomb-thrower" as the media portrays him.

— daveweigel (@daveweigel) March 24, 2015
I'm increasingly inclined to file Ted Cruz in the "performance art" folder.

— Jeet Heer (@HeerJeet) March 25, 2015
Ted Cruz looks like a clown without makeup and communicates solely via intellectual clickbait and I could not be happier that he's running.

— Chase Woodruff (@dcwoodruff) March 23, 2015

***********
Apart from more GOP performance art, what's on the agenda for the day?