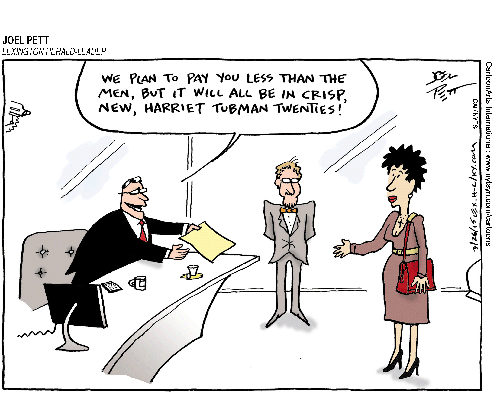 Yeah, I know, it's only a sop and a public relations ploy, but still: Having Andrew Jackson's face on the largest bill most of us handle on a daily basis is an ongoing irritation to people who remember his role in the Trail of Tears, and it's not as though the man approved of paper money in the first place. And I think Harriet Tubman (… and her revolver) is a great role model. Like Gail Collins, I think "A Woman's Place Is on the $20":
… The only woman who has ever shown up on American paper currency — not counting Lady Liberty — is Martha Washington, who starred on an 1886 silver certificate. The fact that it was Martha adds insult to injury. She was an excellent first lady, but her exceptional fame is tied to the ancient idea that the greatest women were simply the ones married to the greatest men. (An alternative theory was that the greatest women were the mothers of the greatest men, and George Washington's mother was equally celebrated, even though her son found her extremely irritating.)

Now, a website called "Women on 20s" has posted biographies of 15 notable women in American history and invited visitors to vote for a female face to put in Jackson's place. The goal is to get the job done by the anniversary of women's suffrage in 2020…

Recently The Times's Room for Debate let experts name their favorites. Gloria Steinem picked Sojourner Truth, the escaped slave turned abolitionist orator. "I'm not sure Sojourner Truth would want to be on the $20 bill, but I would like her to be better known — by any means necessary," she said.

Actually, I'd sort of love to see Gloria Steinem on a $20 bill, but you aren't eligible to star on American currency until you're dead. Also, she has mixed feelings about how much of an honor it is to appear on money. "For a while I thought we should just put the Koch brothers on and be done with it," she said over the phone Friday…
If you go to the Women on 20s website, you can vote for three out of fifteen candidates in the current first round. I picked Ms. Tubman, Alice Paul, and Shirley Chisholm. (I still have the battered copy of Unbought & Unbossed that I bought when the paperback first came out.)
***********
Here in the Boston area, we're supposed to get more snow for the tenth weekend in a row. Oh, well, it won't last — a week of higher temps has removed at least 60% of the existing local snowpiles. Apart from such indignities, what's on the agenda for the weekend?