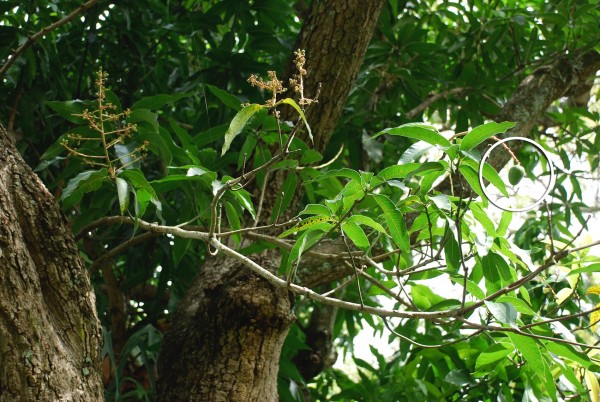 From commentor Stan of the Sawgrass:
This is is our mango tree, blooming, when there are already fairly large mangoes growing from a previous blooming this year.

This is NOT normal. Like most other fruiting trees, there is only one bloom/fruit cycle per year. I've noticed over the past few years that the trees are blooming earlier– during the winter, as early as New Year, and then again after a month or two (right now is about the normal time for this tree.)

You might think, "Oh boy! That's TWICE as many mangoes as before! In yer face, Al Gore!" but the yield on this tree seems to have gone down in the years this has happened– most of the early fruit refuses to set, and falls off soon after the bloom cycle ends.
I haven't asked any of the commercial growers down here if that's happening with their trees, but I started to really notice a few years ago, when our (outdoor) New Year's Eve party almost got ruined by the heavy smell from the big spreading mango tree we were having it under. When I went outside to snap this pic, there was a pretty strong smell from all the other trees in the neighborhood, many in full bloom. This one's almost done blooming, BTW.

I've been told this neighborhood was a mango orchard before it was sold for redevelopment in the 30's. It would make sense, as everyone here has at least one mango tree in their yard, unless they cut it down. There's a big property on the corner that has at least seven. And it's the only neighborhood I know of where kids set up tables by the road offering "Free Mangoes!!" Not last year, though. Or the year before, come to think of it.
***********
In other garden-related news, the NYTimes has bad news about glyphosate:
Thirty years ago, an Environmental Protection Agency committee determined that the popular weed killer Roundup might cause cancer. Six years later, in 1991, the agency reversed itself after re-evaluating the mouse study that had been the basis for the original conclusion.

Now the issue is back again, in an even bigger way. An agency of the World Health Organization has declared that glyphosate, the active ingredient in Roundup, "probably" causes cancer in people. One piece of evidence the agency cites is that same mouse study…

The new controversy and the reversal by the E.P.A. decades ago demonstrate how the same data can be interpreted differently and how complicated and politically perilous such a decision can be. But the discrepancy between Monsanto and the health organization can be partly explained by the specific way its agency analyzes the data…
And much as I like the idea of anything that makes Monsanto unhappy, while I have the luxury of dealing with most of the invasives on our plot by pulling up or smothering them, it would be a real problem for my extremely-allergic Spousal Unit if he couldn't use Roundup on the poison ivy.
***********
In happier news, I've successfully ordered most of this year's tomato garden from my favorite heirloom source, including a half-dozen new-to-me varieties — Black Ethiopian, Bloody Butcher, Dagma's Perfection, Fruit Punch Cherry, Hartman's Yellow Gooseberry, Jutland. I swore this year I'd stick to the best-tasting kinds I knew grew well for me, but after this winter, I couldn't resist the lure of the adjectives. But if I can just resist buying more plants I know I love but that never seem to succeed here (Isis Candy, Pineapple), at least I might have enough room for all the planters & root pouches to get some room and sunlight!
What are your favorite tomato varieties? Have you started your seeds / ordered your plants yet? What's going on in your gardens — or garden planning — this week?