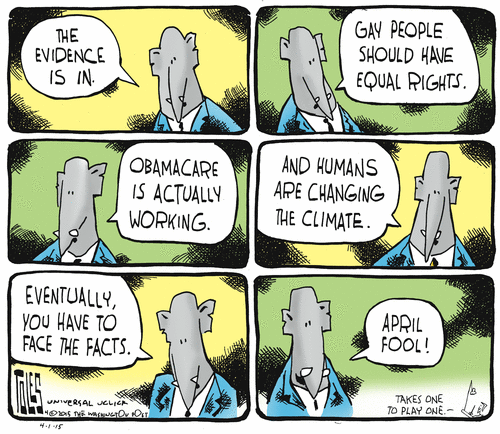 Politico says Mike Pence has succeeded in irking all the most prominent GOP contenders…
Mike Pence just lobbed a grenade into the Republican presidential field.

The Indiana governor's religious freedom law has ignited yet another controversial culture war debate that has Republican contenders juggling awkward questions about issues they would just as soon not touch…

… Republicans are getting pummeled over gay rights issues of all sorts — and face the familiar dilemma of whether a conservative stance that makes for good politics in a GOP primary will hurt them in a general election.

A New York Times editorial called Indiana's law a "cover for bigotry" and said "nobody is fooled" by conservatives' misdirection as to the law's purpose. Video of Rand Paul calling homosexuality a "behavior" surfaced on BuzzFeed. And a Democratic governor used the term "bigot" to describe Pence and by extension the potential 2016 candidates lining up behind him, who so far include Jeb Bush, Bobby Jindal, Ted Cruz, Marco Rubio and Rick Perry…
Wait 'till the Talibangelicals — I mean, Cultural Conservatives — find out about the latest flowering of religious freedom under the RFRA, per the Washington Post:
The First Church of Cannabis Inc. has been approved by Indiana's secretary of state after the state's religious freedom legislation became law last week.

The church's founder Bill Levin said he filed paperwork in direct response to Indiana Gov. Mike Pence's signing the Religious Freedom Restoration Act into law last Thursday. Secretary of State Connie Lawson approved the church as a religious corporation with the stated intent "to start a church based on love and understanding with compassion for all."

Cannibis is listed as the church's sacrament in its doctrine, Levin said, and he will set up a church hierarchy. The church will plan to grow hemp, he said, though it will not buy or sell marijuana….

Indiana attorney and political commentator Abdul-Hakim Shabazz wrote that Indiana legislators may have put the state in a position to acknowledge those who profess to smoke pot as a religious sacrament.

"You see, if I would argue that under RFRA, as long as you can show that reefer is part of your religious practices, you got a pretty good shot of getting off scott-free," he wrote. "Remember, under RFRA, the state has to articulate a compelling interest in preventing you from smoking pot. I argue they can't."…
Since the petition was approved over the weekend, it doesn't seem to be an April Fools' prank…
Apart from keeping a wary eye out for japesters and low comedians, what's on the agenda for the day?