If you can endure several seconds of obnoxious, screen-hijacking ads, Esquire has an interesting and timely article posted: What to Eat at Every Single Major League Ballpark. As usual when I encounter a guide that makes such definitive claims, I scroll through to read the recommendation they make on my turf to determine whether the article is full of crap.
And incidentally, it is: Under no circumstances should you or anyone else ever order the absurd "Four-Pound Fan vs. Food Burger" at Tropicana Field, especially when you could sample some regional fare with a Cuban sandwich (the Trop has a perfectly adequate version) or Taco Bus taco platter washed down with Cigar City beer.
But before I scrolled down to the Trop, my eyes were arrested by this creation available at Chase Field, home of the Arizona Diamondbacks: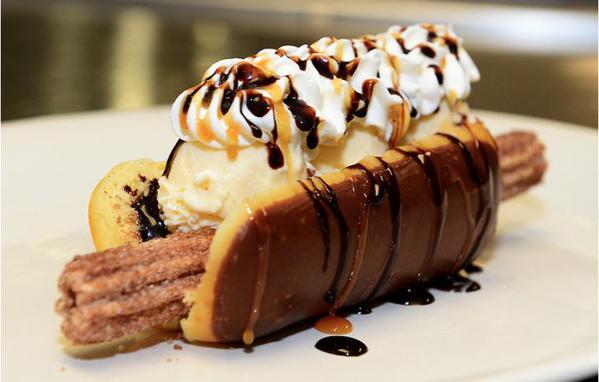 Yes, it's real. A "hot dog" fashioned from a split éclair into which someone has nestled a churro topped by three scoops, whipped cream, chocolate sauce and caramel sauce. Sweet, weeping Mary in a diabetic coma!
Now I'm not sure why the "churro dog" uses frozen yogurt instead of straight-up ice cream — it can't possibly be for the caloric savings. But damn.
What's the most ridiculous dessert you've ever personally consumed?
Open thread!