Via Vox, this information and chart on death-by-cop:
A huge majority of the more than 5,600 deaths on the map are from gunshots, which is hardly surprising given that guns are so deadly compared to other tools used by police. There are also a lot of noticeable fatalities from vehicle crashes, stun guns, and asphyxiations. In some cases, people died from stab wounds, medical emergencies, and what's called "suicide by cop," when someone commits suicide by baiting a police officer into using deadly force.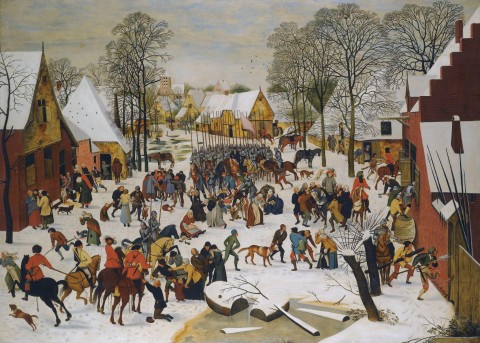 It's important to note that thte 5,600 number is an estimate, and a lower bound at that:
D. Brian Burghart, head of Fatal Encounters, estimates that his organization's collection of reports from the public, media, and FBI only captures about 35 percent of total police killings.
That's a terribly…useful information gap:
This means that it's hard to gauge, based on this incomplete data set alone, whether these types of killings are becoming more common.
How wonderfully obscure.
Still the data that do exist speak volumes.  Here's one way to get guage the extent of the carnage:
In the same period (actually, 2001- April, 2015) US deaths-in-action in Iraq and Afghanistan total 5374.  Saddam and his army, the Taliban, ISIL and all the rest have killed, at a minimum, ~two hundred fewer Americans than our domestic police.
Make of that what you will.
Image:  Pieter Breughel the Younger, The Massacre of the Innocents, c. 1605-1610.