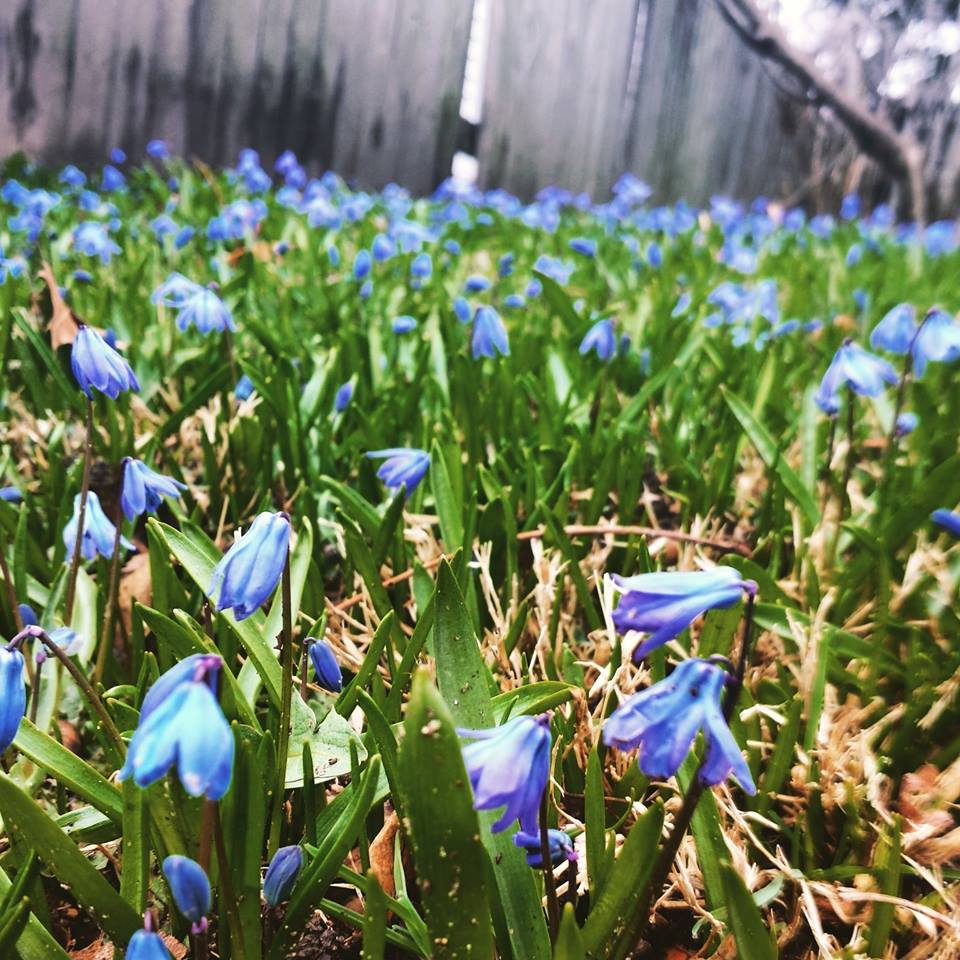 From loyal commentor Satby:
You can title these : Finally! (or "About F*&%ing Time!")

This is the naturalized blue squill in the front yard of my (former) house in Chicago, my eldest son bought it last year. It's an old neighborhood and lots of yards have these naturalized in the grass, making a beautiful display in spring.

These are the beginnings of my naturalizing in Michigan, this is the second year, but they've about doubled. More new squill in context in the yard, these are white ones (with the blue ones just starting to show). It will be years before they fill in like the first picture. They bloom and die back before the lawn needs to be mowed (normally) so it's not a problem for them to be in the lawn.

And these are daffodils that are naturalizing on the border near the fence. When I moved to Michigan the previous owner had planted them one bulb at a time in a single line, like soldiers. I make sure to give them a heavy feeding of fertilizer while they're up and they've filled in well. As long as they get enough food, they'll grow, spread, and flower. If they send up leaves with less or no flowers, it's time to dig them up and split them for replanting. I supplied 10 houses in Chicago with extra daff bulbs that way, from what was a mystery clump of green in a neglected front bed when we first moved in 27 years ago.

Spring bulbs are what I wait all winter for!
***********
My daffodils here north of Boston are beginning to bloom, too. The last of the dirty grey snow piles have finally melted, even on the north side of the house where the shadows are semi-permanent. Yesterday we hit our favorite garden center for the first time this season, and now I've got a couple flats of pansies plus a random handful of colorful 'frost-hardy perennials' (iberis, lithodora, columbine) waiting to encourage me to rake out the winter cruft and get them properly planted. Also a little 'Power Pop' hybrid cherry tomato which may well not survive the next six weeks, but I couldn't resist the lure of "ripe fruit up to two weeks earlier than others of this type"…
What's going on in your gardens (or garden planning), this week?