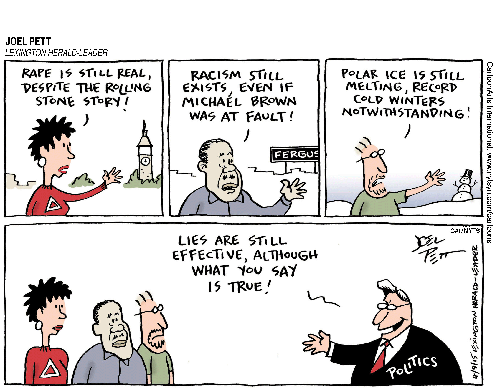 Professor Krugman, sensible as always — "It Takes A Party":
… [T]here has never been a time in American history when the alleged personal traits of candidates mattered less. As we head into 2016, each party is quite unified on major policy issues — and these unified positions are very far from each other. The huge, substantive gulf between the parties will be reflected in the policy positions of whomever they nominate, and will almost surely be reflected in the actual policies adopted by whoever wins.

For example, any Democrat would, if elected, seek to maintain the basic U.S. social insurance programs — Social Security, Medicare, and Medicaid — in essentially their current form, while also preserving and extending the Affordable Care Act. Any Republican would seek to destroy Obamacare, make deep cuts in Medicaid, and probably try to convert Medicare into a voucher system…

Any Democrat would try to preserve the 2010 financial reform, which has recently been looking much more effective than critics suggested. Any Republican would seek to roll it back, eliminating both consumer protection and the extra regulation applied to large, "systemically important" financial institutions…

Now, some people won't want to acknowledge that the choices in the 2016 election are as stark as I've asserted. Political commentators who specialize in covering personalities rather than issues will balk at the assertion that their alleged area of expertise matters not at all. Self-proclaimed centrists will look for a middle ground that doesn't actually exist. And as a result, we'll hear many assertions that the candidates don't really mean what they say. There will, however, be an asymmetry in the way this supposed gap between rhetoric and real views is presented.

On one side, suppose that Ms. Clinton is indeed the Democratic nominee. If so, you can be sure that she'll be accused, early and often, of insincerity, of not being the populist progressive she claims to be.

On the other side, suppose that the Republican nominee is a supposed moderate like Jeb Bush or Marco Rubio. In either case we'd be sure to hear many assertions from political pundits that the candidate doesn't believe a lot of what he says. But in their cases this alleged insincerity would be presented as a virtue, not a vice — sure, Mr. Bush is saying crazy things about health care and climate change, but he doesn't really mean it, and he'd be reasonable once in office. Just like his brother…

One thing is for sure: American voters will be getting a real choice. May the best party win.
Sidebar: Jared Bernstein, who may be as close to a DFH as is permitted among professional economists, is pretty happy with what he perceives of Hillary Clinton's economic policies.
***********
Apart from complaining that we have to spend the next nineteen months hashing this over, what's on the agenda for the day?