I was eating out with my daughter the other day, and she slopped sauce all down her front. As she used the wet-naps I supplied to clean up her shirt, she noted she was glad it was just me who saw the mishap instead of someone important.
This reminded me of the most disastrous business dinner I've ever attended, which occurred shortly after I graduated from college and started working for a consulting company (no, I am not Chelsea Clinton). I think it's pretty common for young professionals to feel like imposters — children in dress-up clothes pretending to be competent adults and fearing exposure.
That fear goes away eventually, but I had a pretty acute case of it back then. I was invited to attend this dinner at a fancy restaurant with my boss and some of her colleagues as well as some senior executives of a client company.
I had no business being included in such an august gathering. My boss, who was a wonderful mentor and deserved a much better mentee than I turned out to be, thought it would be instructive for me to tag along. She assumed I had basic table manners and could competently handle dining utensils. Tragically, she was wrong.
Anyhoo, I'm at this dinner with these people, seated at a big, round, candle-lit table with white linen tablecloths and fingerbowls and a bewildering array of cutlery. Wishing to be invisible, I ordered things that I thought would minimize the potential for disaster, i.e., no lobster or other foods that require special tools, leverage and physical exertion to eat. (I had thought this through!)
But innocent French onion soup proved to be my downfall. When it arrived, I was happy to see that it had a particularly thick layer of toasty cheese on top, because really, that's the chief selling point of French onion soup. I eagerly plunged my soup spoon into the delicious cheese goo and attempted to hack off a bite-sized portion.
Once I'd freed a raft of cheese from the side of the bowl, I tried to hoist it up to my mouth, but it remained attached to the main cheese glob by long strings, which failed to break even when I risked lifting the spoon past my head. So I lowered the spoon back to bowl level and started spinning it, hoping the goddamn cheese strings would end as I wound them around the bowl of the spoon, but no luck.
I tried sawing the strings off on the edge of the bowl, but it was futile — they just fucking merged with the remaining cheese in the bowl, making the problem worse. Between the spinning and sawing, the portion of cheese on my spoon grew until it became a golf ball-sized cheese lollipop with the spoon handle serving as the stick.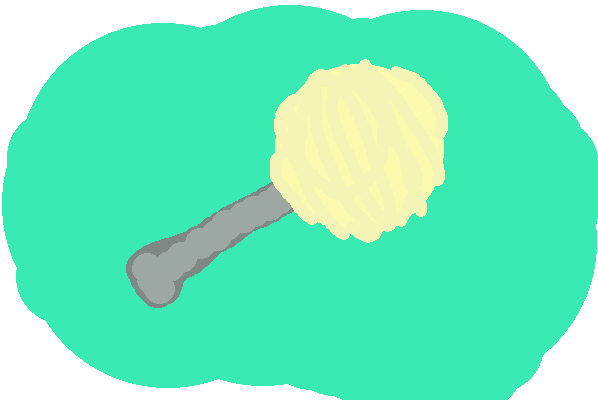 I tried scraping the giant cheese ball off the spoon with the bowl's edge, but it appeared to have bonded to the metal of the spoon. I knew it would be uncouth to simply chew the cheese off the spoon as if eating a corn dog, but my increasingly frantic efforts to dislodge the cheese were beginning to attract attention. In my panic, I made the terrible decision to attempt to ingest all the cheese on the spoon in one fell swoop.
As soon as my lips closed around the giant cheese ball, it seemed to bond to my teeth, so now, I not only had a golf ball-sized glob of cheese in my mouth, I was unable to remove the spoon! For an awful moment, I considered lurching away from the table with my dinner napkin covering the protruding soup spoon handle and walking to the nearest fire station for assistance.
Contemplating that scenario gave me the super-human strength required to remove the spoon from my mouth despite the Gorilla Glue-like bonding power of the molten cheese, but it took wrapping both hands around the spoon handle in a death grip and using great force to extract the spoon sans cheese ball. Once the cheese-spoon bond released, my fists slammed onto the table top, and the spoon popped loose and clattered onto my bread plate. At this point, I noticed that all conversation around the table had ceased, and everyone was looking at me.
The lovely Swiss-Gruyere cheese blend transformed into a hideous ball of humiliation and failure, and it presented a bleak choice that virtually all women face at some point in their lives in quite a different context: spit or swallow?
Faced with the choice of either raising my napkin to my lips and disgorging the giant cheese ball or swallowing it whole, I gnashed it down like a python ingesting a beach ball. Because that's what grown-ups do.
My daughter found the story amusing when I related it to her (minus the "spit-swallow" reference) and said something along the lines of, "Only you, Mom." But I suspect I'm not alone. Has anything like that ever happened to you?