This beautiful woodpecker was working her way through her to-do list the other day, holes to drill, bugs to eat, rivals to intimidate — you know, the usual — when BAM! She flew right into a plate glass window at a commercial establishment: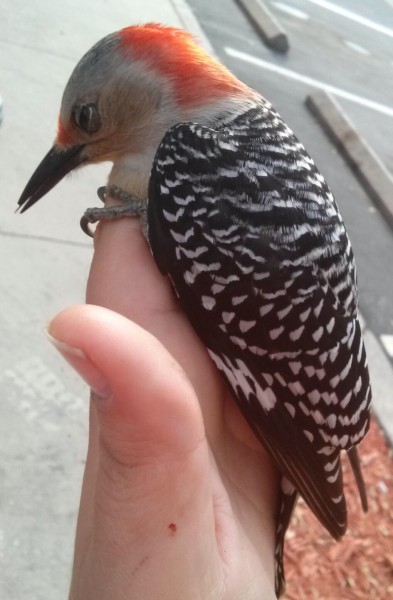 Luckily for her, my sister-in-law, who loves all animals, was there. Upon ascertaining that the woodpecker was alive, SIL picked the bird up to keep her safe from nearby predators while trying to figure out how to save her life. As SIL researched options for injured wild birds, the woodpecker regained consciousness.
The woodpecker was still woozy, though, so SIL stayed with her. The bird eventually found she was strong enough to fly to a nearby tree. After hanging out there for a bit, the woodpecker seemed to recover completely and flew away.
Moral of the story? Be careful out there. And if you crash, have the good sense to do so near a kind-hearted person who will help you.
Open thread!
UPDATE: Valued commenter newdealfarmgrrrll convincingly makes the case that the bird is female rather than male, so I've edited the above to reflect that.