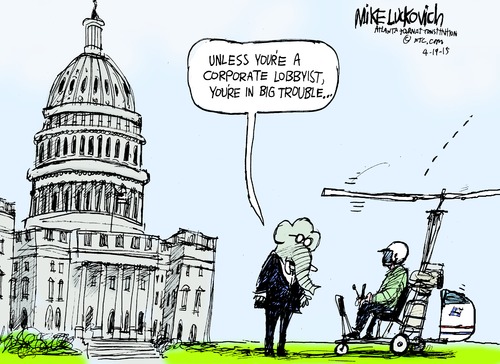 The real holiday, complete with Revolutionary reenactments in Lexington & Concord, not the phony 9/11 commemoration Dubya's handlers tried to gin up when his ratings tanked. Doug Hughes should've waited a few days:
The letter carrier who caused a full-scale security review in Washington when he violated national airspace by landing his gyrocopter on Capitol Hill expressed frustration Sunday that his message wasn't getting through.

Doug Hughes had hoped to raise awareness about the influence of big money in politics by deliberately breaking the law to deliver 535 letters — one for each member of Congress. Instead, the overwhelming focus has been about the gaps he exposed in national security…

Hughes, 61, spoke as he returned to his home in Florida to await prosecution on charges of violating national airspace and operating an unregistered aircraft. He said his house arrest begins Monday, and he will wear an electronic monitoring ankle bracelet until a May 8 court hearing in Washington.

Hughes said people weren't scared when they saw his gyrocopter. He said they waved as he flew in low and slow over the National Mall, over the reflecting pool and onto the Capitol's West lawn…

Asked Sunday if he too thinks he's a patriot or simply crazy, Hughes said. "Everyone gets to make up their own mind about me, that's what I'd say."

"But do you consider yourself a patriot?" a reporter asked. "No, I'm a mailman," he said.
***********
Apart from the usual indignities, what's on the agenda as we start another week?